The checkout process on a standard WooCommerce website redirects you to a lengthy billing process that requires many additional clicks. This creates a terrible user experience and is also the leading cause of [cart abandonment](https://baymard.com/lists/cart-abandonment-rate) in 2022. In fact, many shoppers will give up on the payment process if they realize it's long and tedious.
As a result, using a fast checkout plugin will reduce your website's cart abandonment and increase your conversion rates. Although there are many WooCommerce express checkout plugins in 2022, they are not built the same. Some have better features, and others are easier to use.
In this article, we'll look at why your online business needs a fast checkout process and explore the top plugins that can help you achieve it. Read on to find out which plugin is the best for your site in 2022.
Why should you offer a fast checkout process to your users?
If you have a WordPress store, you probably use WooCommerce, or at least you've heard of it. WooCommerce is the most popular eCommerce WordPress plugin that turns otherwise simple sites into fully functional online stores.
Although it is easy to set up and use, the checkout process is anything but pleasant. It often redirects you to a billing page that requires many additional steps. This can lead to a poor user experience, cart abandonment, and failed payments, negatively affecting your sales and revenue.
Fortunately, an express checkout plugin can help you improve your users' experience by allowing you to create custom checkouts with fewer steps, offer discounts based on total cart value, add fields, and more. It also reduces cart abandonment by giving users a fast checkout with multiple payment methods, making it easier for them to complete their purchases.
Which are the top WooCommerce plugins for a fast checkout?
There are several WooCommerce express checkout plugins available in 2022. Below are our top 9 picks.
PeachPay is arguably the best WooCommerce checkout plugin. It is an all-in-one solution that adds a direct checkout option to all your product pages, cart pages, and mini/sidebar carts.
To prevent friction from WooCommerce default checkout pages, PeachPay supports all the top payment options, including Stripe, PayPal, Google Pay, Apple Pay, AfterPay, Klarna, and more. This results in faster checkouts, less cart abandonment, better customer satisfaction, and more conversions.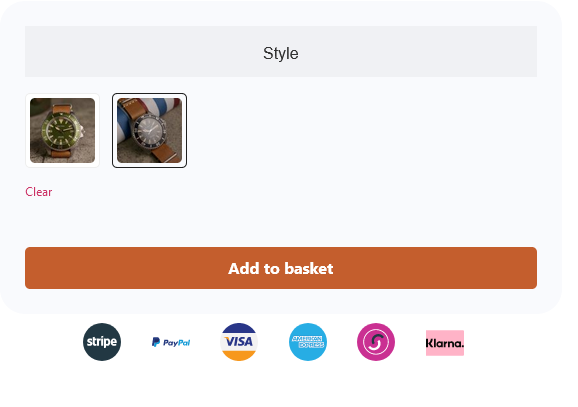 The plugin gives WooCommerce sites the most conversion-optimized, configurable, and stable checkout experience. It creates a checkout window accessible from cart and product pages with a single click.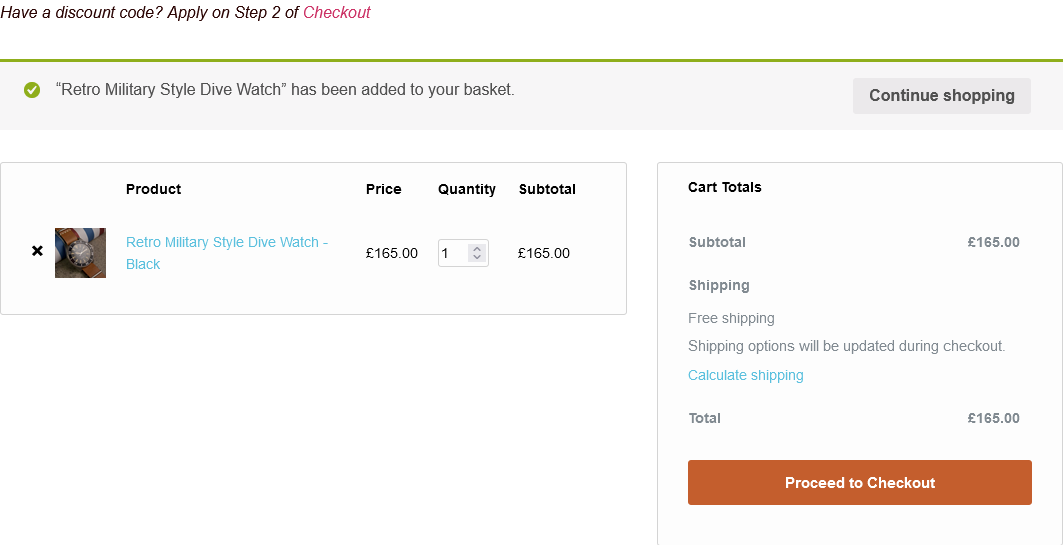 With PeachPay, you can also offer returning customers a one-click checkout. When a customer first logs in to your site, they enter their billing and shipping details. However, the next time they log in, PeachPay will auto-fill all the fields, allowing them to proceed to checkout. This reduces the number of clicks and time they need to complete the purchase.
In addition, customers who've shopped on other PeachPay stores can enjoy the one-click checkout feature even if it's their first time on your site. You can add, remove or modify checkout fields to ensure you get all the customer information you need.
PeachPay allows you to display the proper language and currency on the checkout window, depending on your customer's region. It also encrypts all the debit and debit card information and secures your website with an SSL certificate, which protects the data transfer process from customers' computers to your WooCommerce store.
PeachPay also lets you customize the entire checkout design by editing your button color, alignment, width, and layout. You can also showcase related products and offer your customers discounts through coupon codes.

The best part about PeachPay is that it's free to use and comes with free customer support. It makes revenue by charging a small percentage of the transaction value from its payment provider partners.
Reasons to choose PeachPay
Free to use and offers 24/7 customer support.

Secures the data transfer between your customers and your online store.

Supports a one-click checkout process.

Allows your customers to shop on any device by offering seamless cross-platform support.

Easy to set up and use – the setup process takes just a few minutes.

Reduces cart abandonment and increases your site's sales and revenue.

It offers a test mode to see if everything is working correctly.

PeachPay supports most promo codes, including discounts and coupons.
Formerly known as 'WooCommerce Direct Checkout,' this plugin aims to reduce the number of steps on WooCommerce's default checkout process. It simplifies the process by allowing users to skip the checkout page and proceed directly to checkout.
Direct Checkout's premium version includes a quick purchase button on each product page, letting users checkout without adding the product to their shopping cart. The Ajax add-to-cart option allows users to add single, variable, grouped, and virtual products to the cart without requiring a site reload.
The checkout options allow you to remove unnecessary fields from the checkout page and reduce the time your users spend completing those fields. These include shipping addresses, order comments, policy text, coupon forms, and terms and conditions.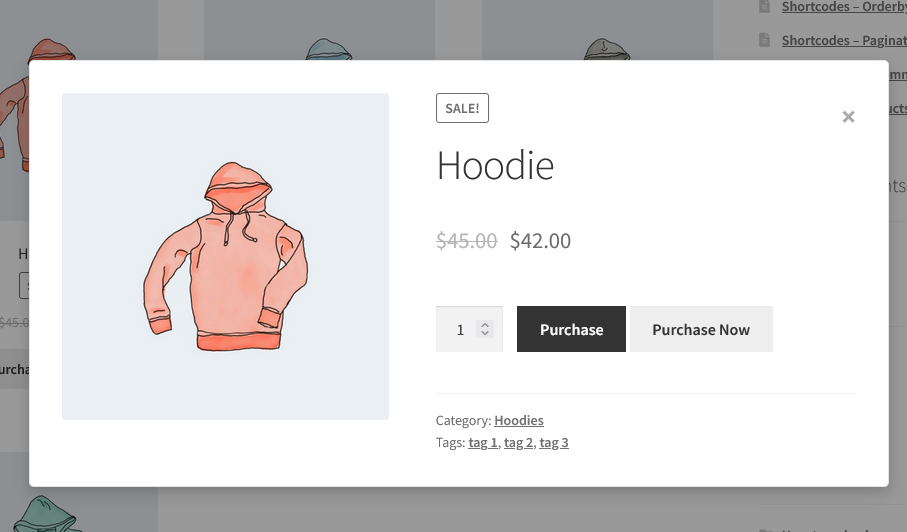 Unfortunately, the free version of Direct Checkout has limited features compared to a free alternative like PeachPay. It also offers limited support, making it hard to use it efficiently.
Pros
Shortens the checkout process, giving your users a better experience.
The premium version allows you to add a quick purchase button, which lets your users buy single products directly without adding them to a cart.
Allows you to remove unnecessary fields like policy text, order comments, and coupon forms from your checkout page.
Cons
Limited features in the free version, which means no quick purchase button, ajax add to cart, or one-page checkout.
The premium version starts at $49 for a personal one-site license, which is quite expensive.
The free version offers limited, public-facing support.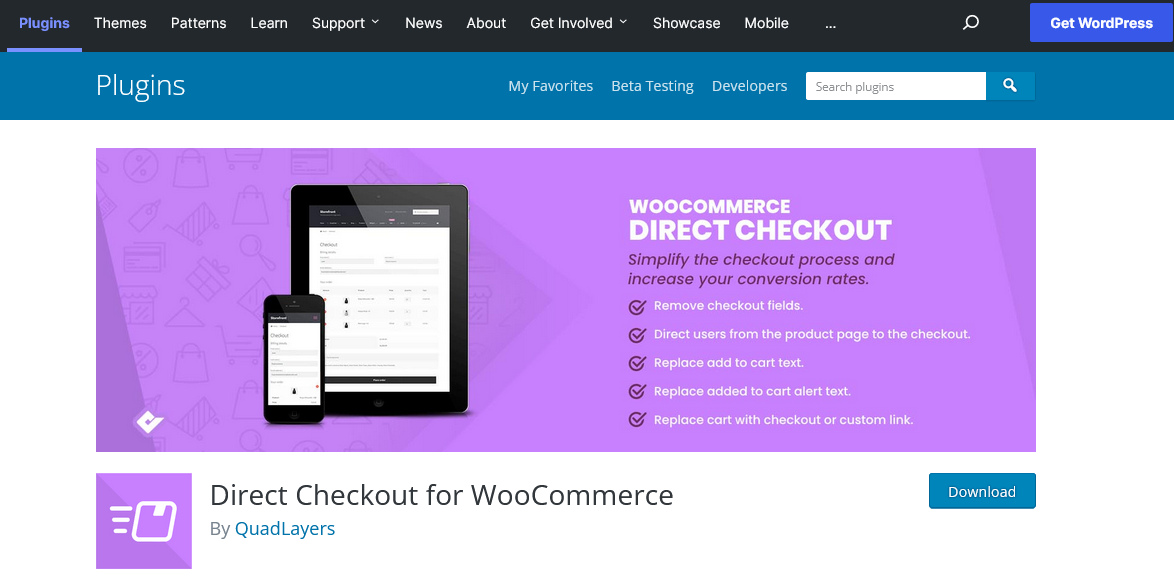 Like PeachPay, this plugin allows you to accept payments via PayPal. YITH PayPal Express Checkout for WooCommerce does this by integrating the PayPal express checkout to your WooCommerce site. One of the most significant benefits of doing so is that your users can pay using credit cards, even if they don't have a PayPal account. The supported acceptance marks are selected dynamically depending on the user's PayPal account country and displayed below the checkout button.
YITH Paypal Express Checkout also reduces the hassle of going through endless pages at the checkout by opening a popup during the payment process instead of redirecting the user to PayPal. This means your customer will remain on your site throughout the process, significantly reducing cart abandonment.
The plugin also allows you to edit the dates and prices of existing subscriptions, just like big web companies, Amazon and Netflix. Without this feature, you'd have to cancel all your subscriptions and start afresh with your customers, which is not ideal for their user experience.
YITH also pre-fills checkout fields with data from the user's PayPal account. This reduces the time they spend on checkout and reduces cart abandonment.
Pros
Customers can pay using credit cards even if they don't have a PayPal account.
Creates a PayPal popup, which keeps the customer on your site, even as they log in.
Allows you to edit the dates and prices of existing subscription products.
Cons
It only supports PayPal restricting customers who use other popular payment methods like Google Pay and Apple Pay.
Free competitors like PeachPay offer all its main features and more.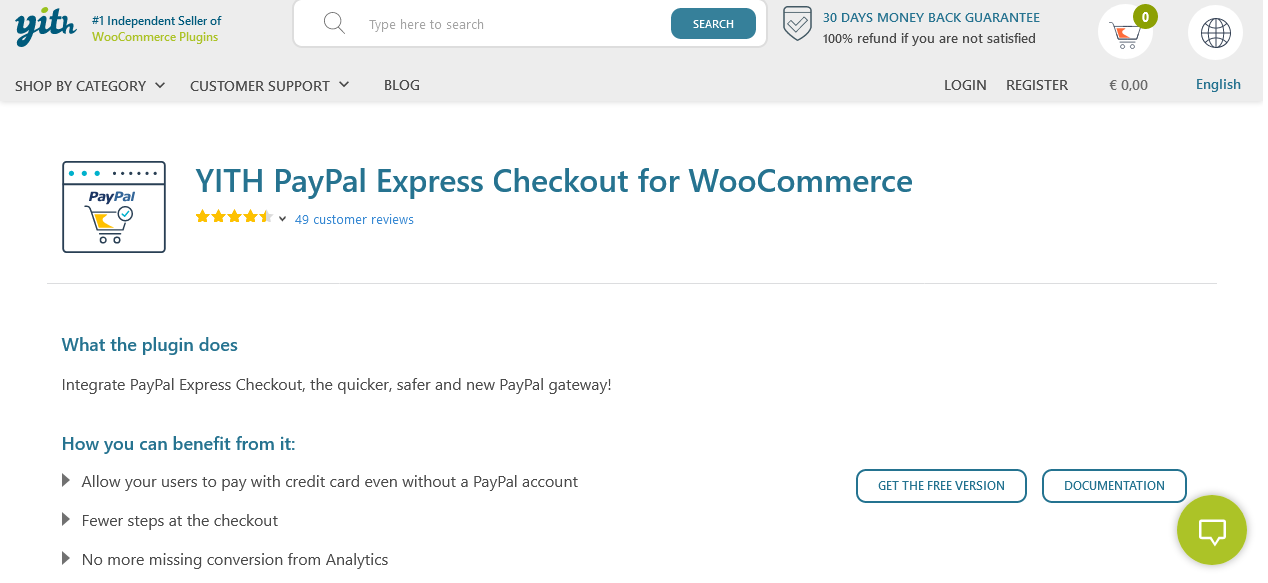 WooCommerce Fast Cart replaces the multi-page checkout system on WooCommerce with a single shop page. When a customer adds a product to the cart, a popup appears where they can review and edit the cart, then checkout.
It can replace the default WooCommerce cart page, checkout, or both. This gives you more control over your customers' checkout process, which is lacking in the default system.
Fast Cart also integrates naturally with your WooCommerce themes and allows you to configure the cart page and checkout button to your taste. This improves your eCommerce site's look and feel, making your customers feel more at home.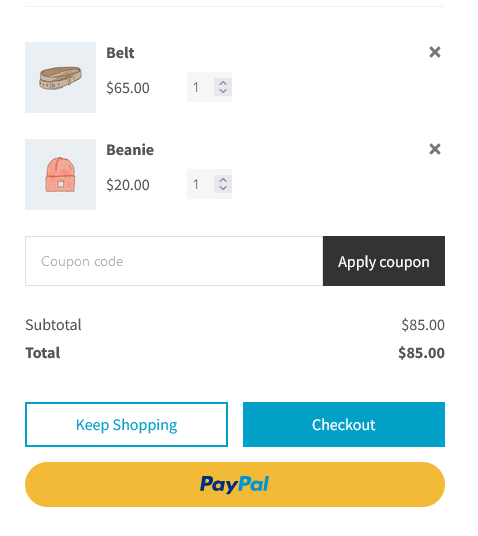 Pros
Reduces the checkout steps, consequently lowering cart abandonment rates.
Gives you absolute control over your cart page and checkout aesthetics.
Cons
It starts at $79 annually, which is quite expensive.
Offers a limited number of features compared to cheaper alternatives.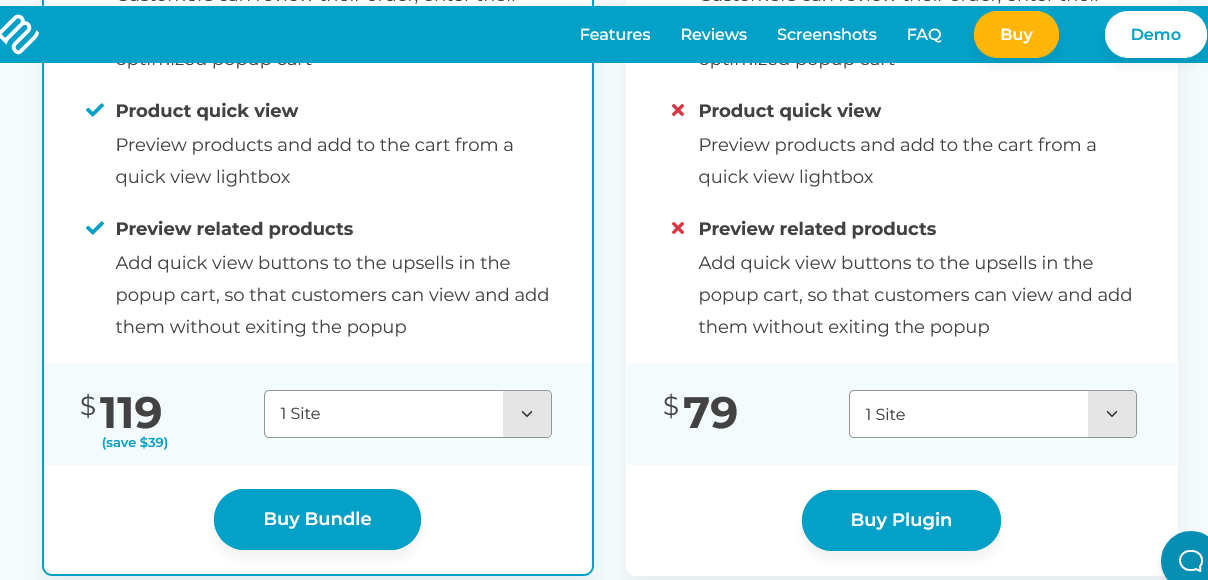 This plugin makes the checkout process easier by allowing users to checkout directly on the landing page. It supports almost all WooCommerce payment gateway extensions, allowing your users to pay with their preferred method.
Quick checkout is also compatible with all the top WooCommerce extensions, including
Bookings.
Subscriptions.
Product Add-ons.
Name Your Price.
Checkout Fields.
Gravity Forms.
This means you don't have to buy any additional extensions for compatibility.
The plugin also allows you to add buy now buttons to single products. This lets your users proceed to checkout with a single product without going through the multi-step process. Once they click buy now, they can pay for the product in a single click.
If your site uses WooCommerce-compatible themes, Quick Checkout will integrate seamlessly. It uses your native WooCommerce checkout style and saves you from confusing templates or incompatible styles.
Pros
Offers lifetime support for license holders.
Allows you to add a checkout button on your landing page, eliminating the series of clicks or redirects.
Integrates with your WooCommerce theme and allows you to style your checkout buttons.
Cons
Only free for up to 50 orders and starts at $76 for an annual personal license, which is expensive.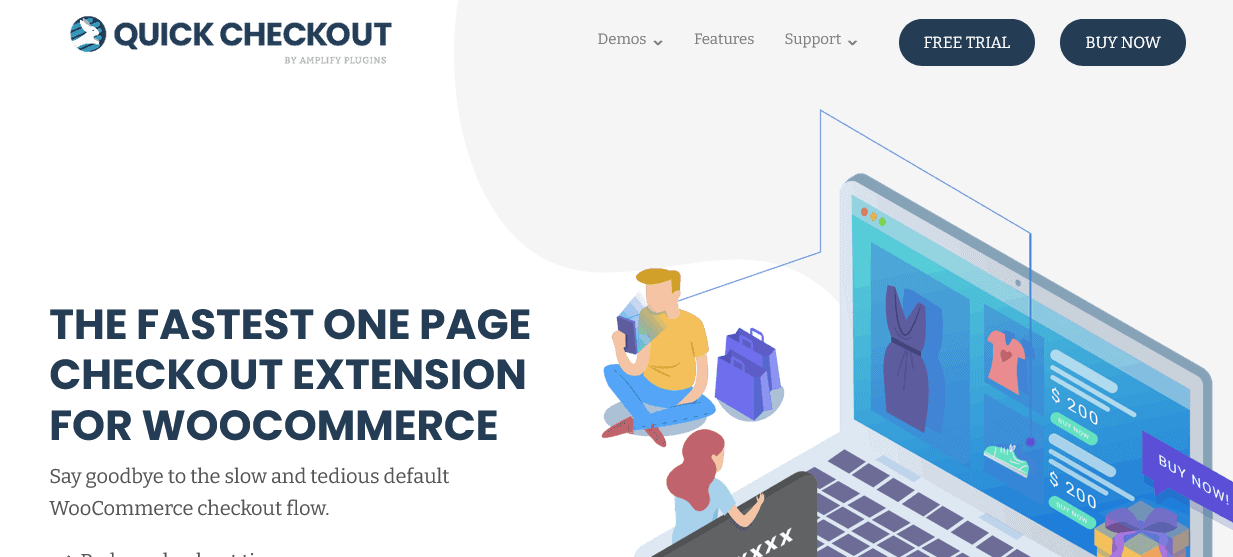 CheckoutWC promises a simplified checkout process. It breaks the lengthy WooCommerce checkout procedure into discrete steps that keep users within your page and help them finalize the transaction quickly.
The plugin also simplifies the account creation process and allows your users to set up an account without additional information. Once the checkout is complete, they receive an email with information about their new account.
If the customer has an existing account, they can use it to log in, but CheckoutWC allows them to checkout as guests if they want to skip the process.
CheckoutWC also auto-fills some fields on the checkout page from other information provided by the customer. For instance, it can autofill state and city fields based on the postal code. It also saves all the field information in the local browser cache so that it doesn't disappear on refreshing. This goes a long way in reducing cart abandonment.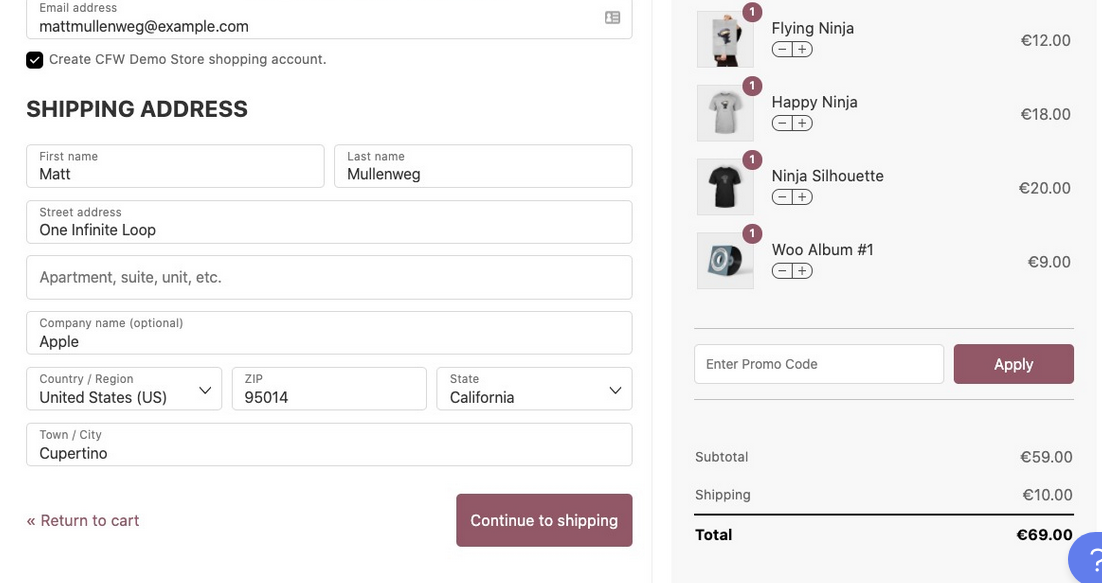 Pros
Supports most WooCommerce payment gateways.
Allows your users to review and edit the cart from the checkout page with the click of a button.
Mobile-responsive design, which works effortlessly on any platform.
Showcases product recommendations and enables order confirmation notifications.
Cons
Since CheckoutWC uses templates that work on top of the default WooCommerce checkout page, it might be cumbersome for some browsers and decrease your site's load speeds.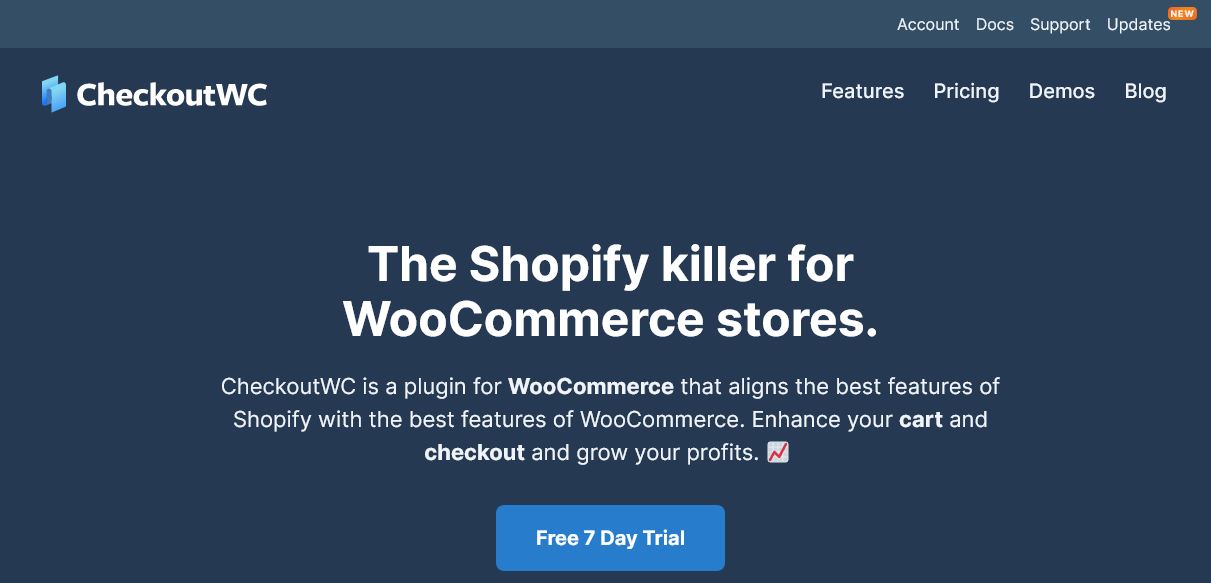 This plugin has a one-page checkout feature that allows you to turn any page on your site into a checkout page. It also makes it easier for the customers to buy products from these custom pages by displaying both the selected products and checkout forms on a single product page.
They can review and edit the products on the checkout page without leaving or waiting for a new page to load. Checkout fields can also be added to single products, reducing the number of steps customers need to check out.
Pros
The one-page checkout experience allows customers to check out quickly and reduces the chances of cart abandonment.
Allows you to create unique landing pages for special events.
Cons
It starts at $79, which is expensive, considering cheaper options like PeachPay have more functionality.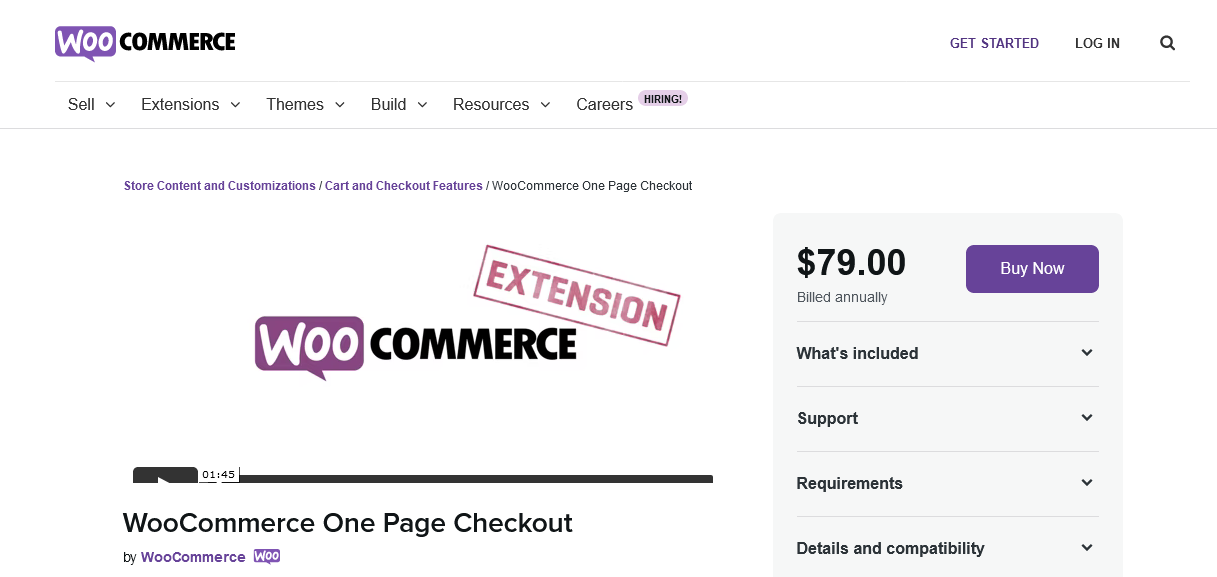 This plugin replaces the default WooCommerce checkout for higher conversion rates. It allows you to reduce the number of fields on the checkout page, eliminating unnecessary information and saving your users time.
It saves your customers time by auto-filling fields with the information they've already provided. For instance, it autocompletes the address fields once they enter their postal code.
Flux Checkout also allows you to customize your checkout page's themes and switch between them in one click.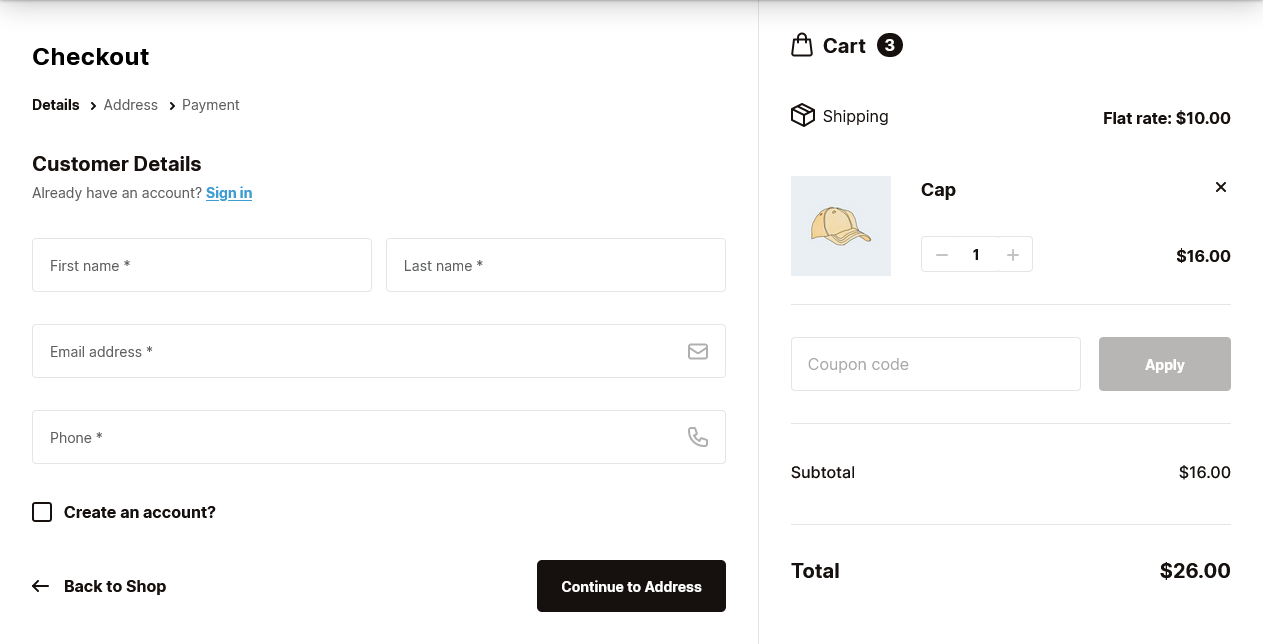 Pros
It offers various customizations for the checkout box and cart page.
The reduced number of fields saves users time and lowers cart abandonment rates.
Easy to set up.
Cons
While it's currently discounted to $69, Flux Checkout usually starts at $99, making it the most expensive plugin on our list. Unfortunately, it has fewer features than most of the cheaper alternatives.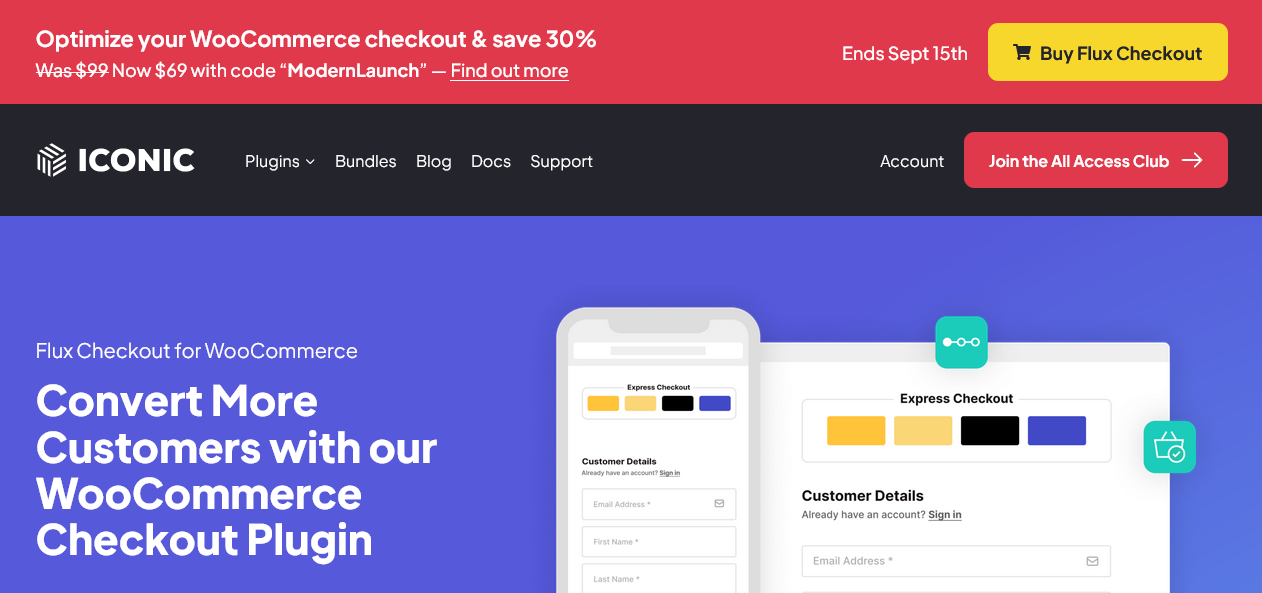 This plugin allows you to add a direct checkout option to your shop and pages. It also auto-fills user information like shipping and billing addresses and payment information.
Cashier displays product recommendations based on frequently bought together items. It also offers a one-click checkout feature, which lets your users skip the cart and proceed directly to checkout.
In addition, the checkout page allows you to review and edit selected products based on price and other factors.
Pros
It offers one-click checkout, reducing the number of steps users go through at checkout.
Allows users to add or remove products from the side cart before checkout.
Auto-fills information, saving time and reducing cart abandonment.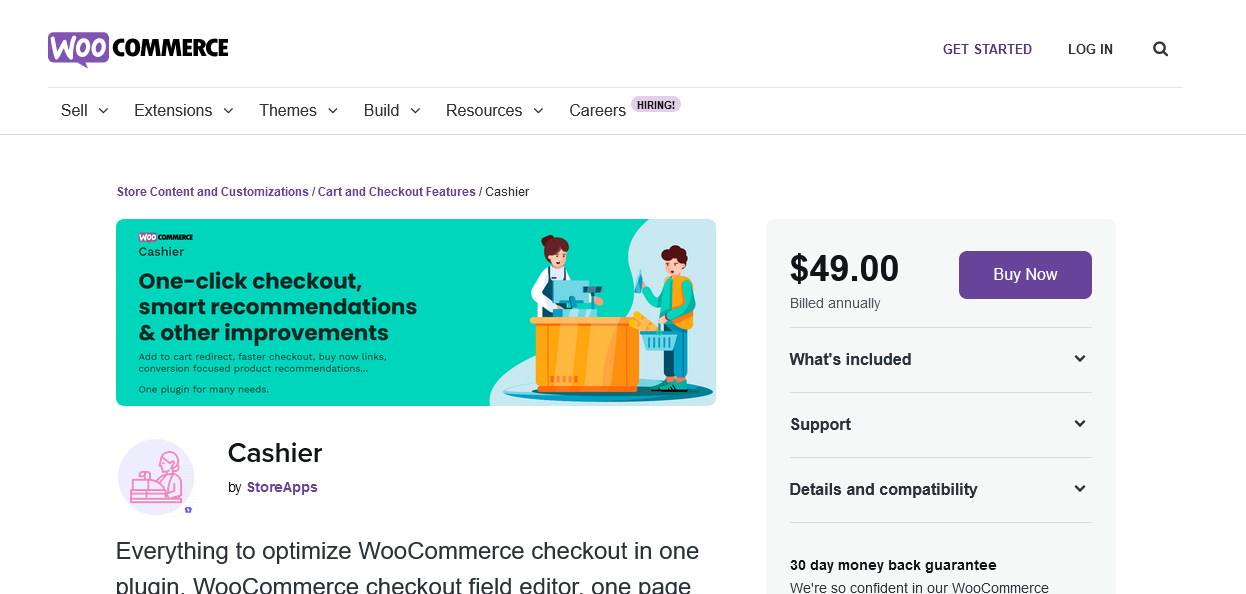 Why is PeachPay the recommended solution for WooCommerce merchants?
Blaze Candle & Wax is a small business that sells hand-poured candles. Like most other businesses, it is busiest during the holiday season. The beginning of the year is relatively slow for the founders, Ryan and Raul, who expected 2021 to be similar to previous years. They tried various marketing techniques, but sales remained minimal throughout January.
However, when Ryan – who had previously tried Fast Cart – took 10 minutes to install PeachPay, their orders more than quadrupled the following month. This was after they had a congenital heart disease (CHD) fundraiser, which attracted many website visitors to support the noble cause. Since PeachPay gave their store a frictionless checkout experience, most of these visits turned into conversions.
PeachPay reduces all the distractions and confusing information that comes with WooCommerce's default checkout process. This allows your customers to experience a fast and pleasant checkout without frustrations.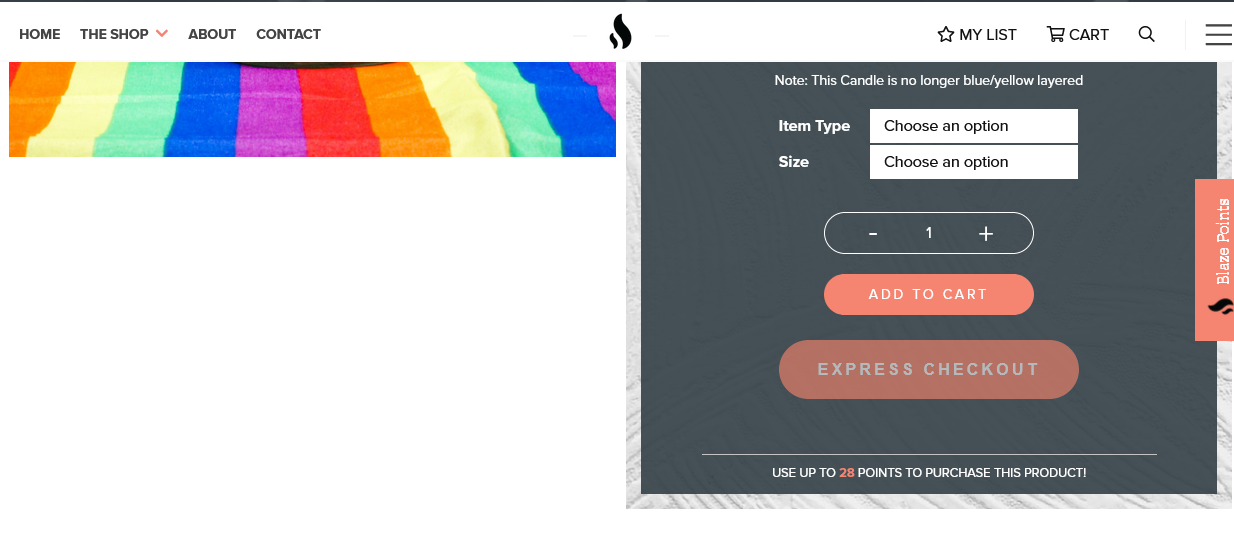 Optimize your checkout experience and reduce cart abandonment with PeachPay
Having a fast WooCommerce checkout process is the best solution to cart abandonment. Since WooCommerce's default checkout process is long and confusing, it's important to install a good WooCommerce express checkout plugin.
While there are dozens of WooCommerce checkout plugins, PeachPay stands out as one of the best. It is easy to set up and use, offers a quick checkout for your customers, and provides 24/7 support. Better yet, it's completely free to use with no subscriptions or hidden charges.
Get PeachPay today for free and start making conversions.