Payment processing is a crucial part of an online store's conversion process. Customers just love it when they find their favorite payment methods to complete their transactions. In fact, when they don't get their preferred means to check out, [16% of them abandon their carts](https://stripe.com/en-in/payments/payment-methods-guide).
That's why as an eCommerce store, you want to offer your shoppers a multitude of payment methods. Different payment gateways support different payment options. For example, if you use the PayPal payment gateway, you can let your users pay with their credit and debit cards or their PayPal account.
But choosing a good payment gateway goes beyond evaluating its payment methods. You also need to factor in other things like a payment gateway's charges and compatibility with your eCommerce platform.
So let's see how you can choose the best payment gateway for your WooCommerce store. We'll also look at five of your best options and how you can bring most to your store seamlessly with PeachPay. But before that, let's do a quick primer on what a payment gateway is and why it's so central to your WooCommerce checkout process.
The best payment gateways for WooCommerce
PayPal for enabling payments via credit cards, debit cards, and PayPal accounts

Stripe for collecting payments via cards, wallets, bank transfers, and a host of local payment methods.

Square for getting paid via cards and wallets.

Amazon Pay for letting Amazon users check out easily (this is more of a payment method than a gateway).

Apple/Google Pay for making it easier for iPhone, iPad, and Mac users to pay (also more of a payment method than a gateway).
What is a payment gateway?
As soon as a shopper gets to your store's checkout page (or window!), they see all the payment methods that they can use to pay. These methods come directly from your payment gateway. It's common for online stores to use multiple gateways to unlock a variety of payment options. Below you've got an online store offering its users numerous WooCommerce payment choices and two of the best WooCommerce payment gateways (PayPal and Stripe) on the checkout: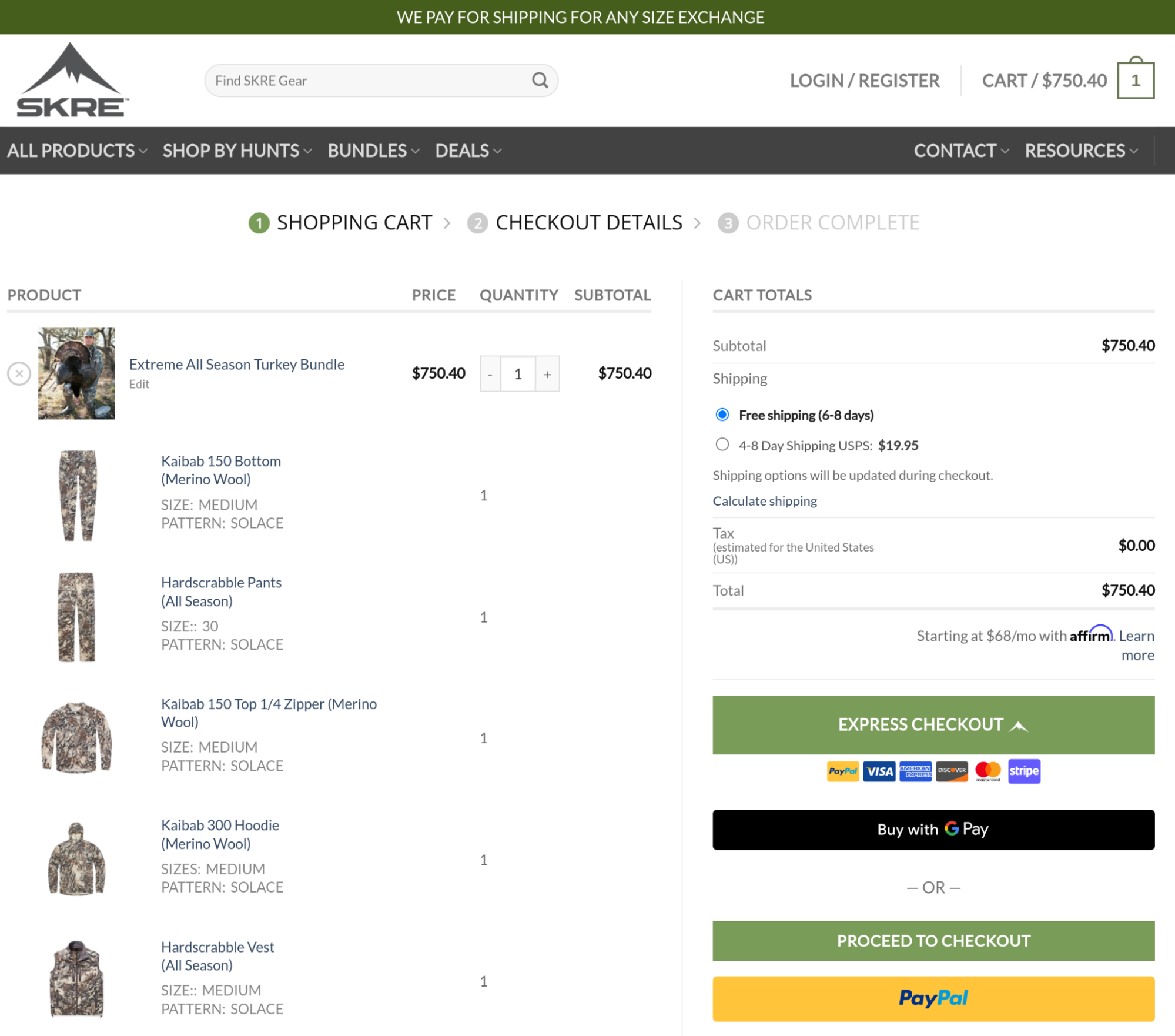 Essentially, this is how a payment gateway works:
Firstly, your payment gateway collects your users' payment information (credit card or debit card details, for example).

The payment gateway then sends this information and the transaction's details to the customers' banks. During this time, users typically see a payment page from their bank or payment gateway asking them to authorize the transaction using an OTP.

Once users authorize a transaction, their bank decides whether or not to allow the transaction (depending on, say, the availability of funds).
When the bank gives it a go, the payment gateway collects the money. This money is finally sent to your merchant account.
Payment gateways charge some fee for every transaction they process for you. But it still works out great as you don't have to build a custom payment system and integrate with multiple payment methods separately. Imagine how building one would involve so many technical, compliance, and logistical challenges.
Let's now see how you can find the best payment gateway for your WooCommerce store.
Choosing the best payment gateways for WooCommerce
Here are a few considerations to keep in mind when selecting a WooCommerce payment gateway.
Processing charges
The rates for most payment gateways are comparable, at least for the most common payment methods like credit cards. However, do your research. Also, see if there are any monthly fees you need to pay.
The availability of preferred WooCommerce payment options
Most payment gateways accept credit and debit cards. So most will take VISA cards or Mastercards without any issues. Bank accounts are also supported by most, but only a few work with wallets.
Additionally, if you need to enable local payment methods, a gateway like Stripe instantly seems like the best option.
Depending on your store type, a few features can be more critical. For instance, if you want to sell eCommerce subscriptions or open an access store-type online business, you'd need to look for subscription payment processing and recurring billing capabilities in your payment gateway. Essentially, you're looking at compatibility with WooCommerce Subscriptions or other WooCommerce plugins for subscriptions here.
Overall logistics
It's also essential to understand payout procedures (the reserve period during which the payment gateway holds your funds, any applicable payout fees, etc.).
Dispute handling is yet another consideration. Chargebacks should also be transparently contestable through your payment gateway. Refund processing, too, needs to be hassle-free.
Also, your gateway should be easy to set up — you don't want to spend days configuring or maintaining your payment processing system. Ideally, your gateway should come with a well-supported integration plugin for your eCommerce platform, along with an accessible and responsive support team, just in case.
The contract length is another critical factor to review before finalizing a payment gateway.
In addition to all these, it's also essential that your payment gateway allows you to retry failed payments, protects you against fraud, and is user-friendly.
So with that out of the way, let's look at five of the best WooCommerce payment gateways.
1. PayPal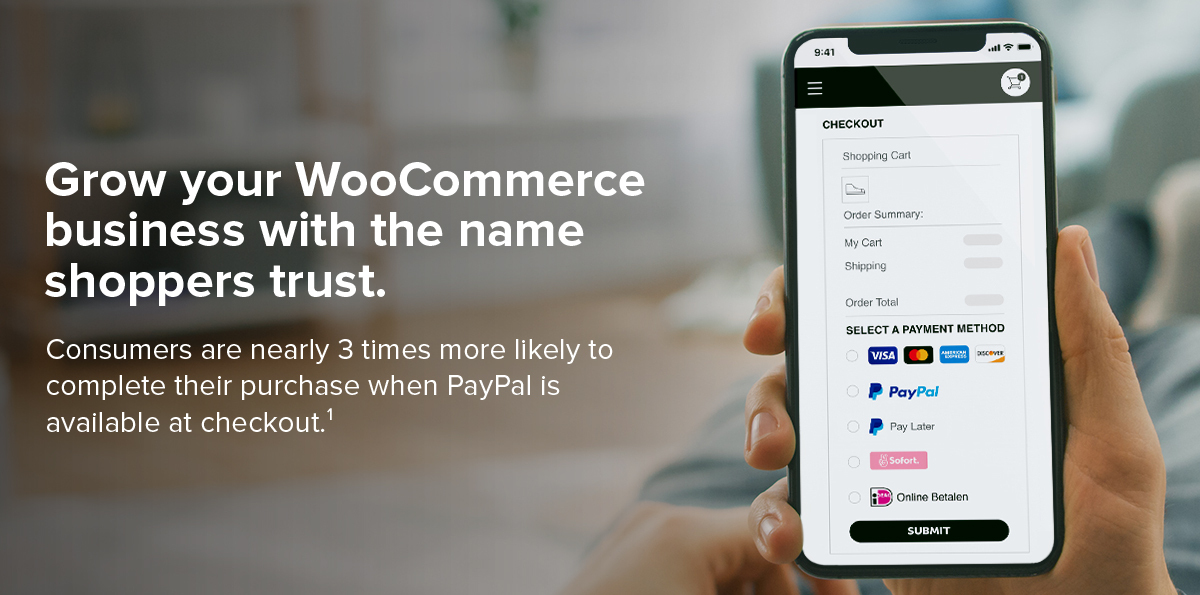 PayPal is the ubiquitous way to pay online. It's one of the top online payment gateways, powering roughly half of all transactions (worldwide). If you add the PayPal payment gateway to your WooCommerce store, users will be more willing (about 54% more willing, to be specific) to buy from you, and you'll also stop losing sales. It's worth noting that many PayPal users actually abandon their shopping sessions if they can't find the PayPal option while checking out.
PayPal works well for merchants as well as it reports one of the highest checkout conversion rates. It's also available almost everywhere - in more than 200 countries. PayPal fees vary by country (among other factors), but on average, you need to pay 2.9% + $0.30 for each transaction. In terms of fees, this is comparable to most other options.
PayPal offers multiple payment systems — from full-fledged on-site online payment gateways to PayPal-hosted checkout pages. Of these, PayPal Standard is one of the most convenient ways for WooCommerce stores to get paid via PayPal.
WooCommerce used to offer support for PayPal Standard right out of the box. However, it is now pushing stores to use the complete PayPal checkout solution and has stopped offering PayPal Standard as part of the core.
Here are a few ways to bring the PayPal payment gateway to your store:
WooCommerce PayPal Payments: This is WooCommerce's official PayPal integration plugin. This plugin brings PayPal's complete checkout to your store. However, it doesn't support PayPal Standard.

Third-party PayPal gateway integration extensions: This includes various dedicated WooCommerce PayPal extensions like Braintree that help you collect payments via PayPal, using PayPal's different payment methods. These are often premium plugins that require you to pay for customer support.
3.PeachPay: Best for last: you can use PeachPay to integrate the PayPal gateway with your store. Backed by Automattic (WooCommerce's parent company), PeachPay is a complete WooCommerce checkout solution that offers built-in integration with PayPal. Also, with PeachPay, you get to implement PayPal Standard, which remains the easiest way to collect PayPal payments for most WooCommerce merchants. Plus, free customer support. More on this below!
2. Stripe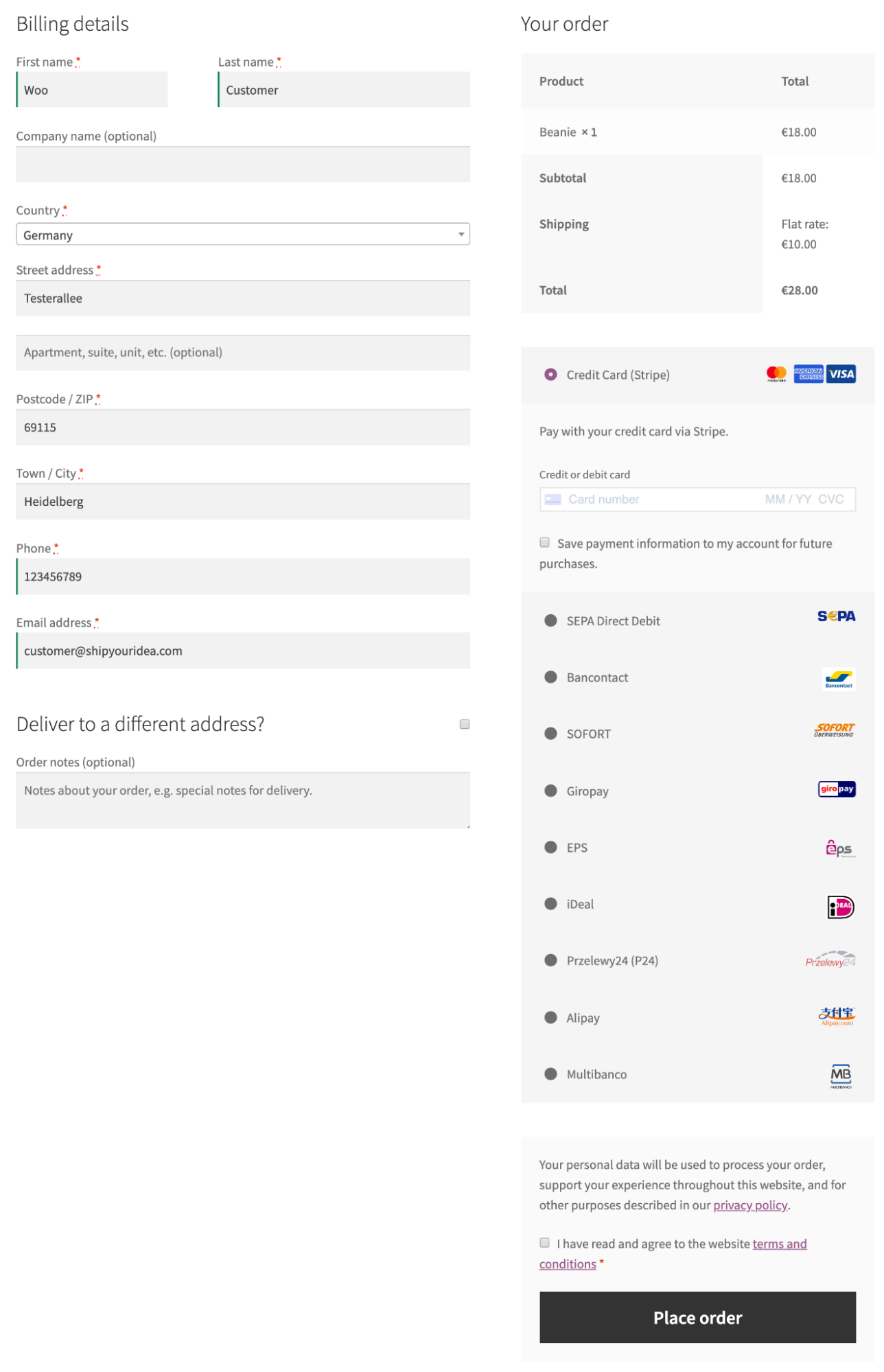 Stripe is the second most popular WooCommerce payment gateway after PayPal. Using Stripe, your users can easily make debit or credit card payments on your store. Accepting payments via Apple Pay and Google Pay wallets is also easy with Stripe. Stripe offers local payment methods too. The best thing about Stripe is that it keeps your shoppers on your store and doesn't direct them to other pages to complete their purchase.
Stripe accepts payments in over 40 countries and 135 currencies. It is the premier WooCommerce payment gateway for eCommerce subscription stores. Forrester's payment gateway report ranked Stripe as the winner for the subscription payment processing model.
Like PayPal, even Stripe charges you 2.9% + $0.30 per transaction. But this can vary based on the different Stripe payment products you use and your region, among other factors. Here are three ways to bring the Stripe payment gateway to your WooCommerce store:
WooCommerce Stripe Payment Gateway: This is WooCommerce's official Stripe integration plugin. With WooCommerce Stripe Payment Gateway, you can easily collect credit and debit card payments on your store, process payments via wallets like Google Pay and Apple Pay, and launch local payment methods such as Alipay for Chinese markets.

Third-party PayPal gateway integration extensions: There are many third-party Stripe payment gateway extensions for WooCommerce that help you unlock better integration between your WooCommerce store and the Stripe gateway. Again, paid customer support, though.

PeachPay: PeachPay supports Stripe as well. PeachPay lets you connect your WooCommerce store with your Stripe account in just a few clicks, thanks to its robust built-in integration.
3. Square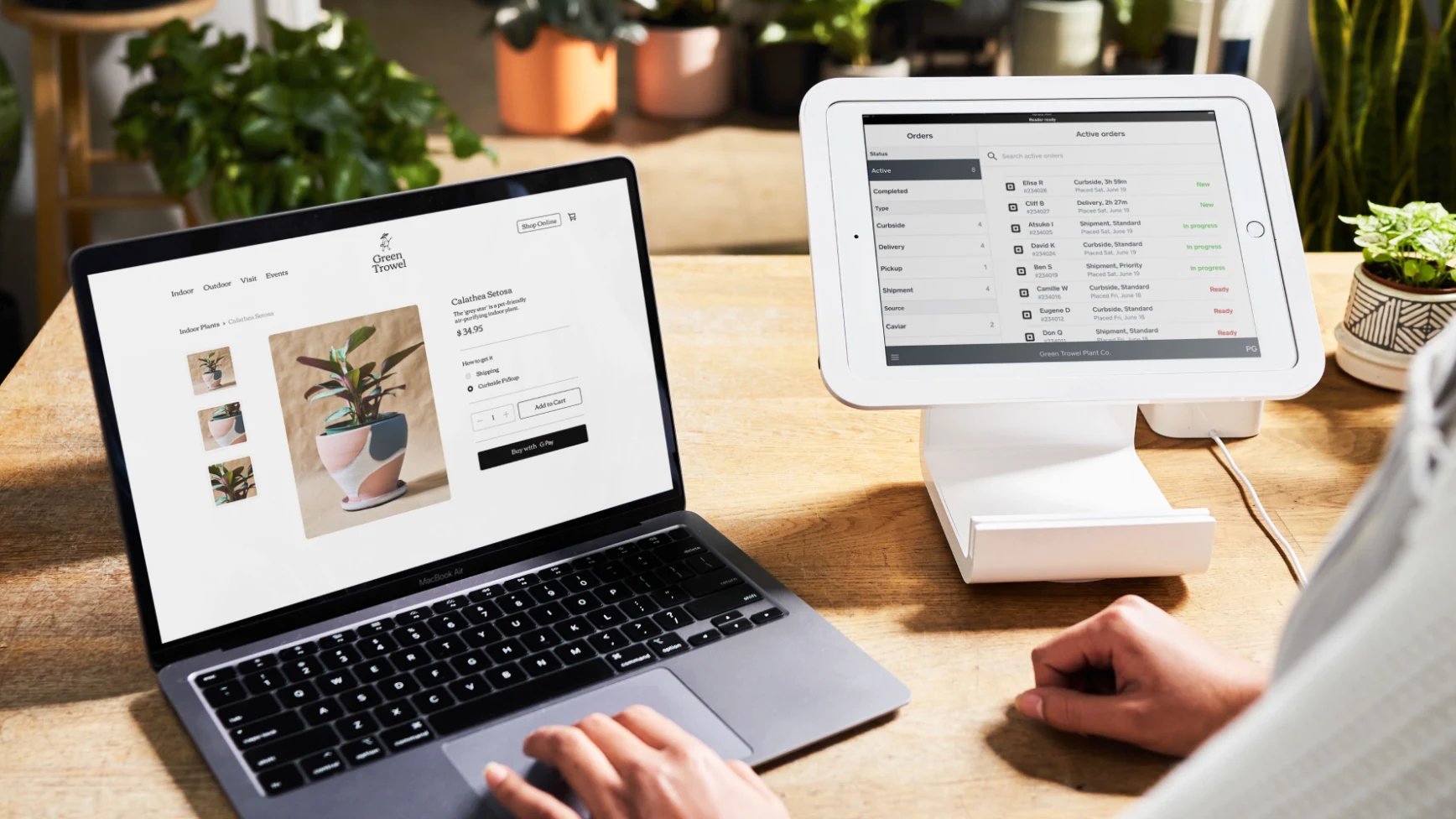 With Square, your customers can pay you via both credit and debit cards. Square supports Apple Pay and Google Pay as well.
Unlike PayPal, which is present everywhere, and Stripe which is also largely available, Square caters to fewer countries. As of now, you can use Square in the U.S, U.K., Canada, Australia, Japan, France, Spain, and Ireland.
The best way to add the Square payment gateway to your WooCommerce store is to use Square for WooCommerce (WooCommerce's official Square payment gateway integration plugin). Square charges you a transaction fee that's about 2.9% + $0.30 per transaction. This can vary based on your location and other factors. Here's a resource on Square's fees.
PeachPay will soon be integrating with Square as well.
4. Apple Pay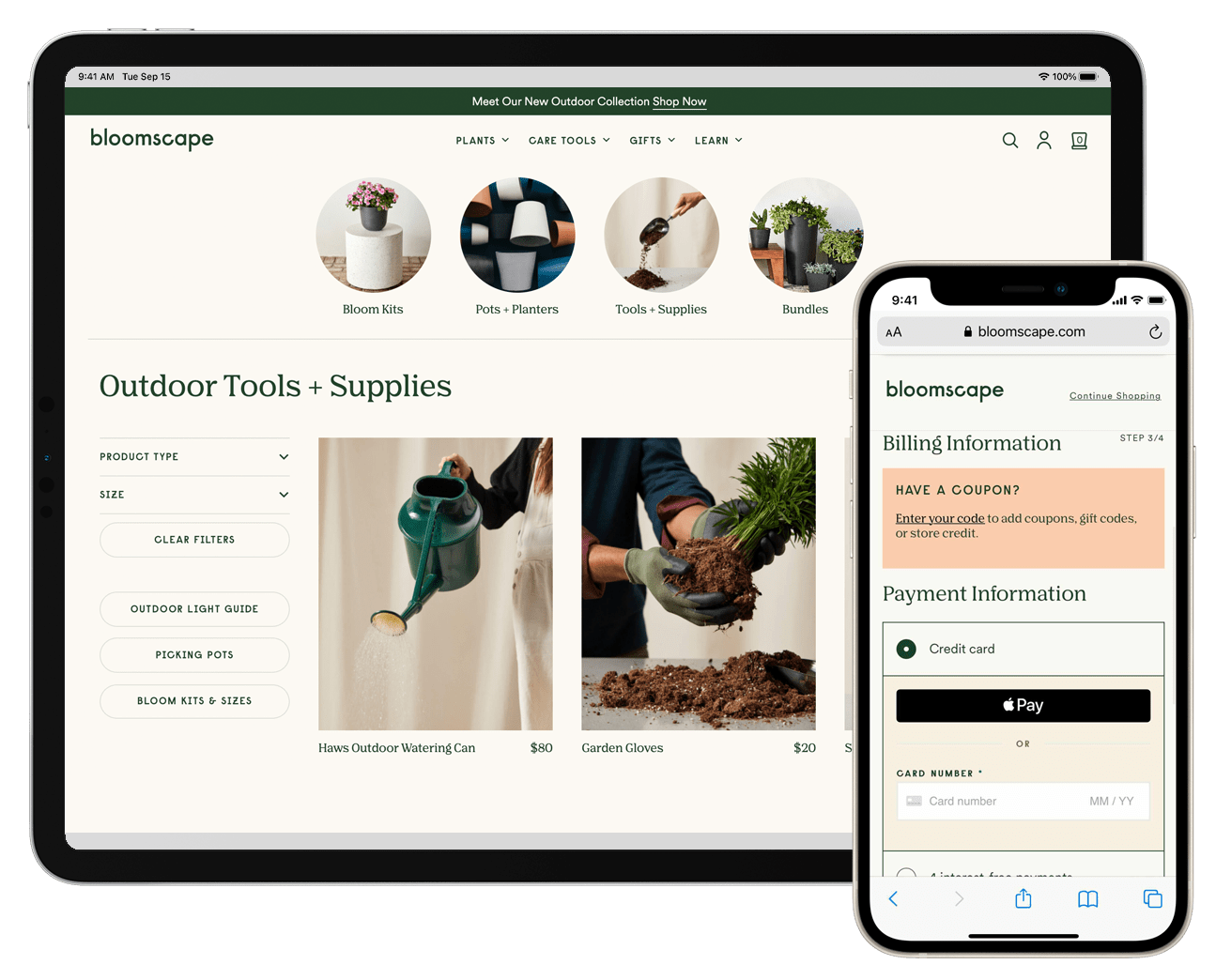 As such, Apple Pay for WooCommerce isn't a full-blown payment gateway like PayPal, Stripe, or Square. Instead, it's a payment gateway designed specifically for Apple users. We could even call it a payment method since Apple Pay is a wallet. As with any other wallet, users can connect their credit/debit cards to Apple Pay and use the wallet to make a payment on stores that accept the Apple Pay wallet.
When your customers check out via Apple Pay on your WooCommerce store, Apple accesses their billing, shipping, and payment details from their Apple Pay wallet and fills them out for your checkout. This way, Apple Pay fast-tracks WooCommerce's otherwise really long and tiring standard checkout process. Users like how quickly they can check out with such little effort — with a single touch, actually. They also value Apple's privacy and security provisions.
Stores report better satisfaction and improved checkout conversions with the Apple Pay payment gateway/method.
You can bring the Apple Pay wallet to your WooCommerce in a few ways.
WooCommerce Payments: This is WooCommerce's official payments solution and lets you enable the Apple Pay wallet.

WooCommerce payment gateways like Stripe or Square that support Apple Pay: You can also use these payment gateway plugins to enable the Apple Pay payment option on your store. Paid customer support is par for the course.

PeachPay: You can also download the PeachPay WooCommerce checkout extension to enable the Apple Pay WooCommerce payment method.
5. Amazon Pay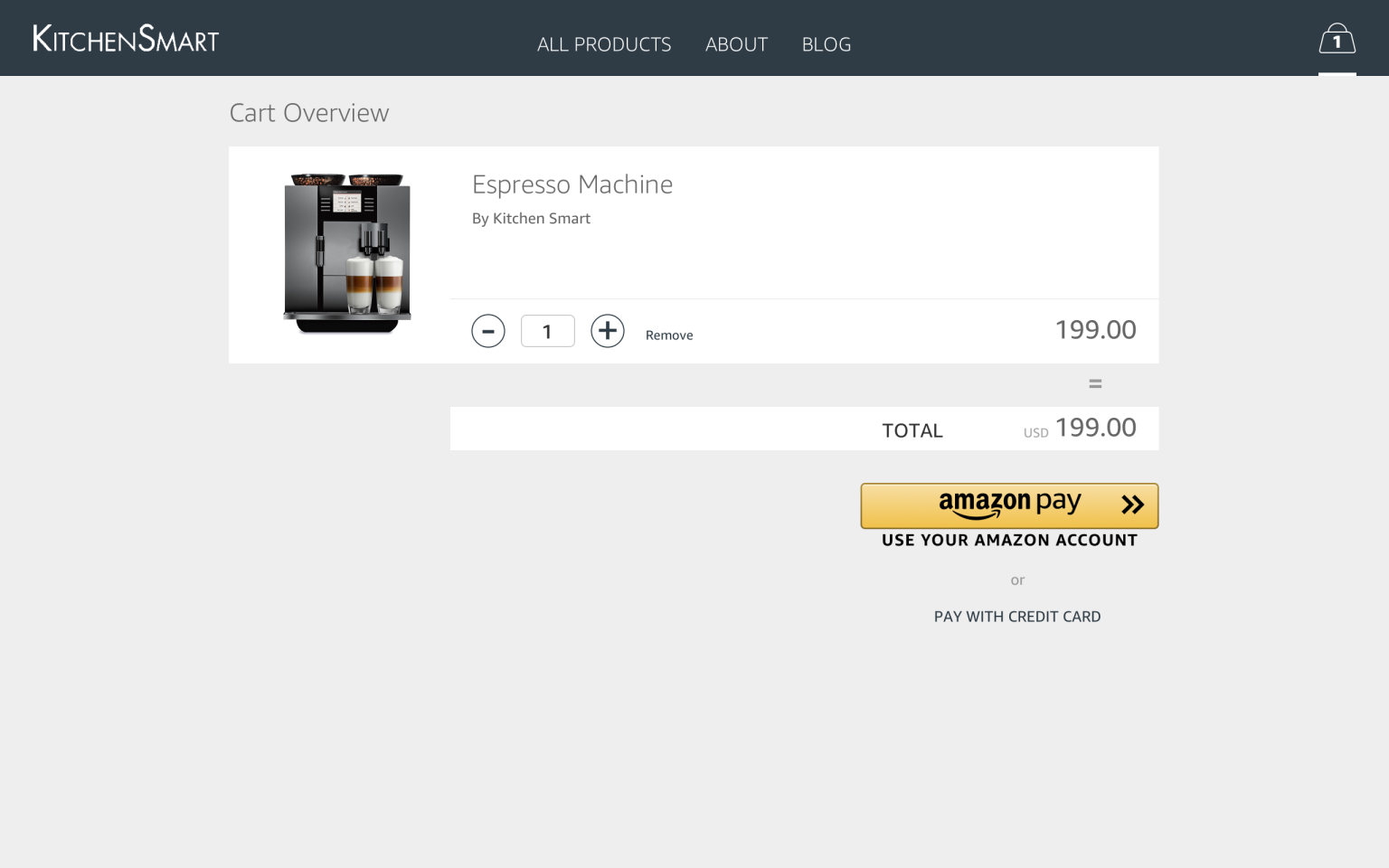 Like Apple Pay for WooCommerce, Amazon Pay for WooCommerce isn't technically a full-fledged payment gateway solution for WooCommerce or general eCommerce stores. But it's exclusively designed to help Amazon users check out faster on any store on the web that offers the Amazon Pay option. Amazon Pay charges you 2.9% + 30 cents for every transaction. Your payment terms can vary.
With the Amazon Pay digital payment solution, your store's shoppers can check out using the billing, shipping, and payment information that they have stored with their Amazon accounts. Millions of Amazon users use the Amazon Pay service, and by enabling it on your WooCommerce store, you can make buying super-easy for all these users. In one survey, 91% of Amazon Pay customers said that they'd love to use the Amazon Pay payment method again.
Like Apple Pay, Amazon Pay eliminates several steps of the tedious Woocommerce default checkout and lets users check out swiftly using Amazon's checkout that they know and trust.
To add the Amazon Pay payment system to your WooCommerce store, you'll need an Amazon Pay merchant account. You'll first have to sign up for an Amazon Seller Central account. This approval process can take you anywhere between 20 to 30 days. Post that, you can get WooCommerce's official Amazon Pay extension (WooCommerce Amazon Pay), and you should be good to go.
Like Square, Amazon Pay will be supported by PeachPay soon as well.
Meet PeachPay — the best plugin to bring your favorite payment gateways to WooCommerce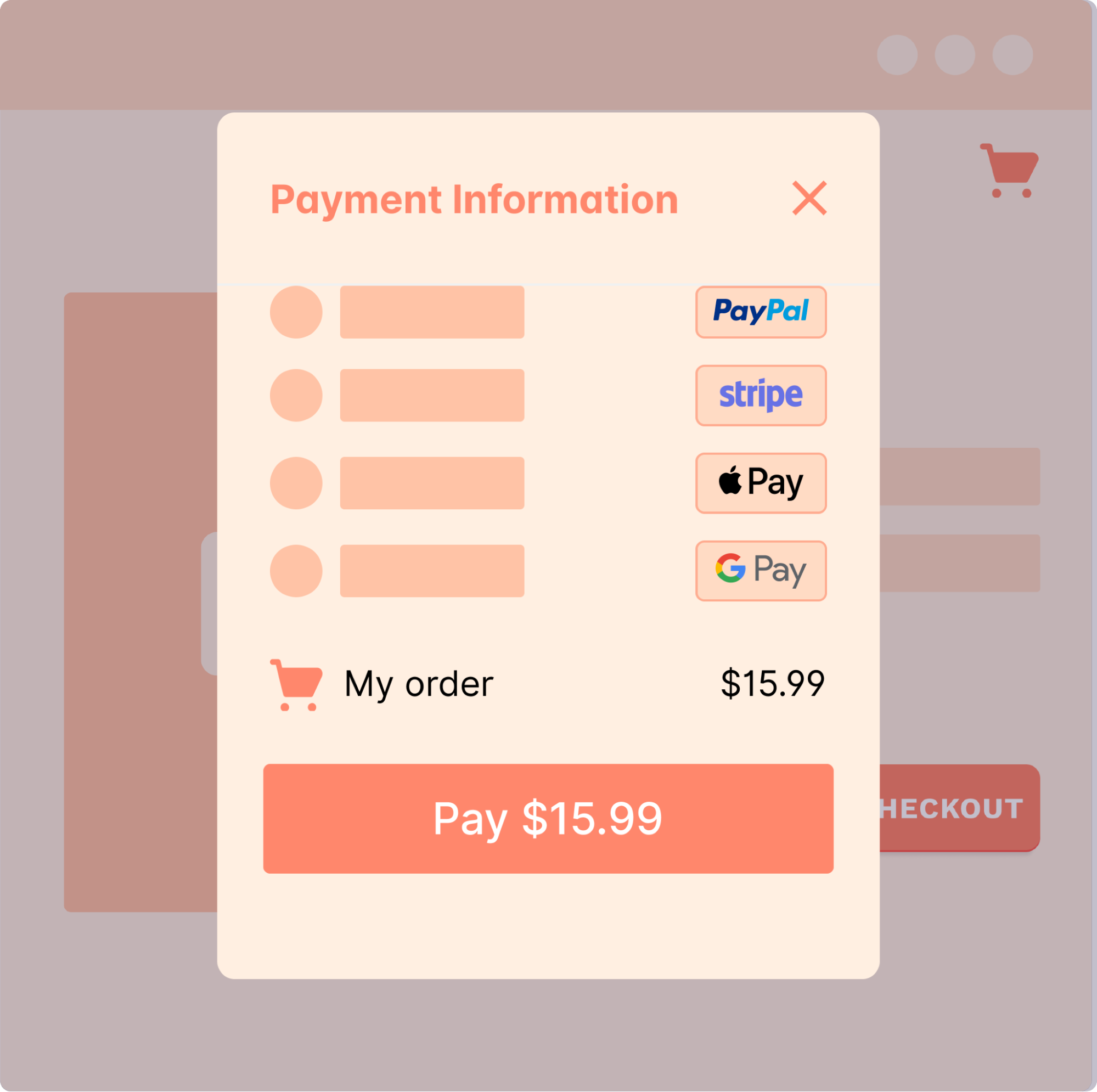 As you can tell, you need a separate payment gateway plugin for each gateway or payment option you want to add to your store. But a much better way exists, PeachPay. PeachPay supports PayPal and Stripe right out of the box. It also supports Apple Pay and Google Pay. Not to mention Buy Now Pay Later (BNPL) solutions like Klarna & Afterpay. Additionally, PeachPay is actively adding support for even more payment gateways, wallets, and BNPL solutions.
But PeachPay is actually much more than a payment gateway plugin.
PeachPay improves customer experience (thereby reducing your cart abandonment rate)
PeachPay replaces WooCommerce's default checkout page and eliminates tiresome steps like the "View cart" one. So users can get to the checkout instantly. More importantly, it replaces WooCommerce's standard WooCommerce checkout with a conversion-optimized checkout window:
You can easily style your custom window according to your brand/website using PeachPay's customizer — you don't need to know any PHP or coding.
PeachPay also adds an Amazon-like "Buy now" button to your product pages and helps users get to the checkout in one click — a handy feature for those quick shopping sessions.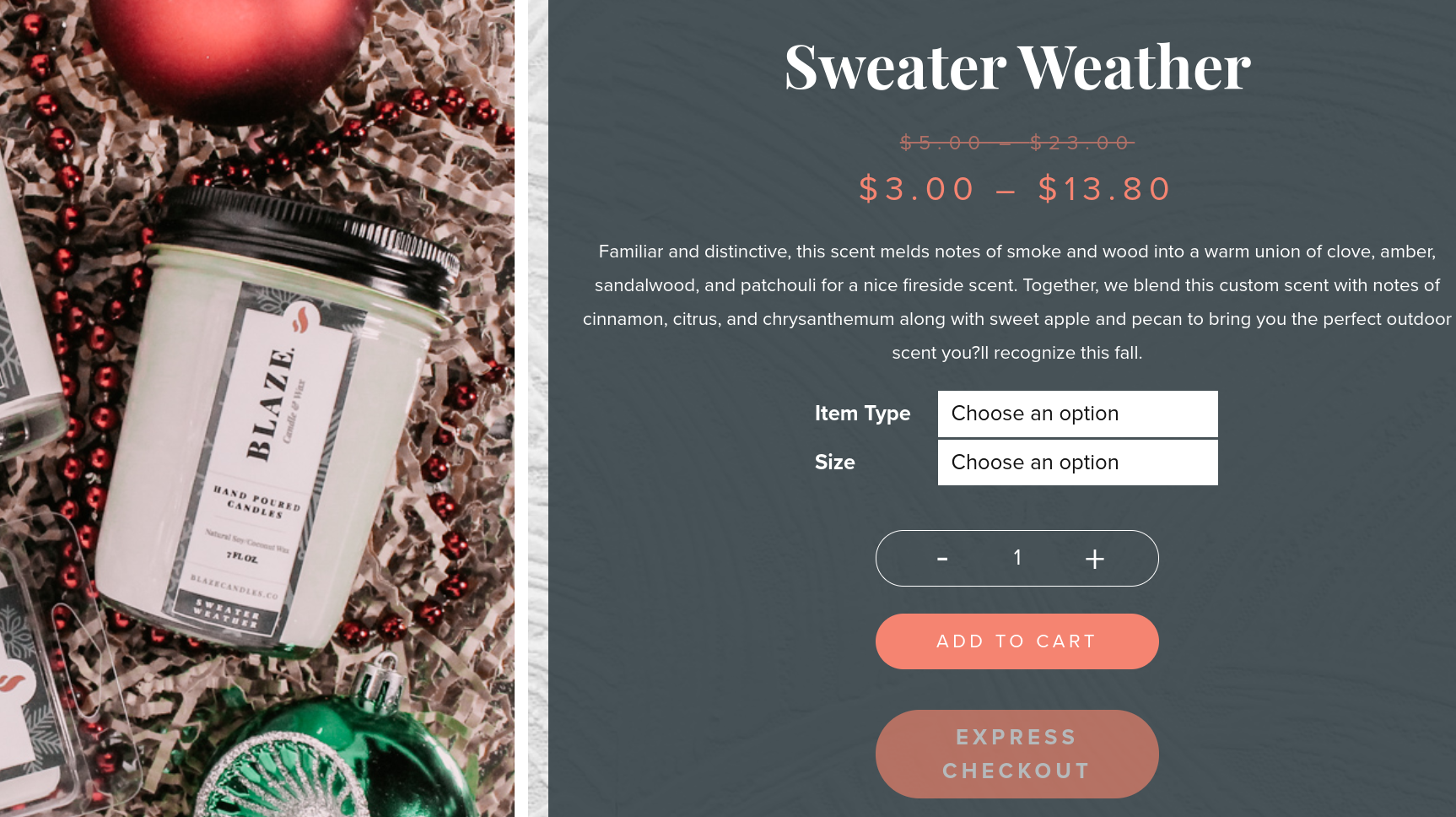 PeachPay improves repeat orders
Once a user checks out on your store via PeachPay, it stores their billing, shipping, and payment information. The next time they return to make a purchase, PeachPay fills these in for them, giving them an Amazon-like one-click checkout experience: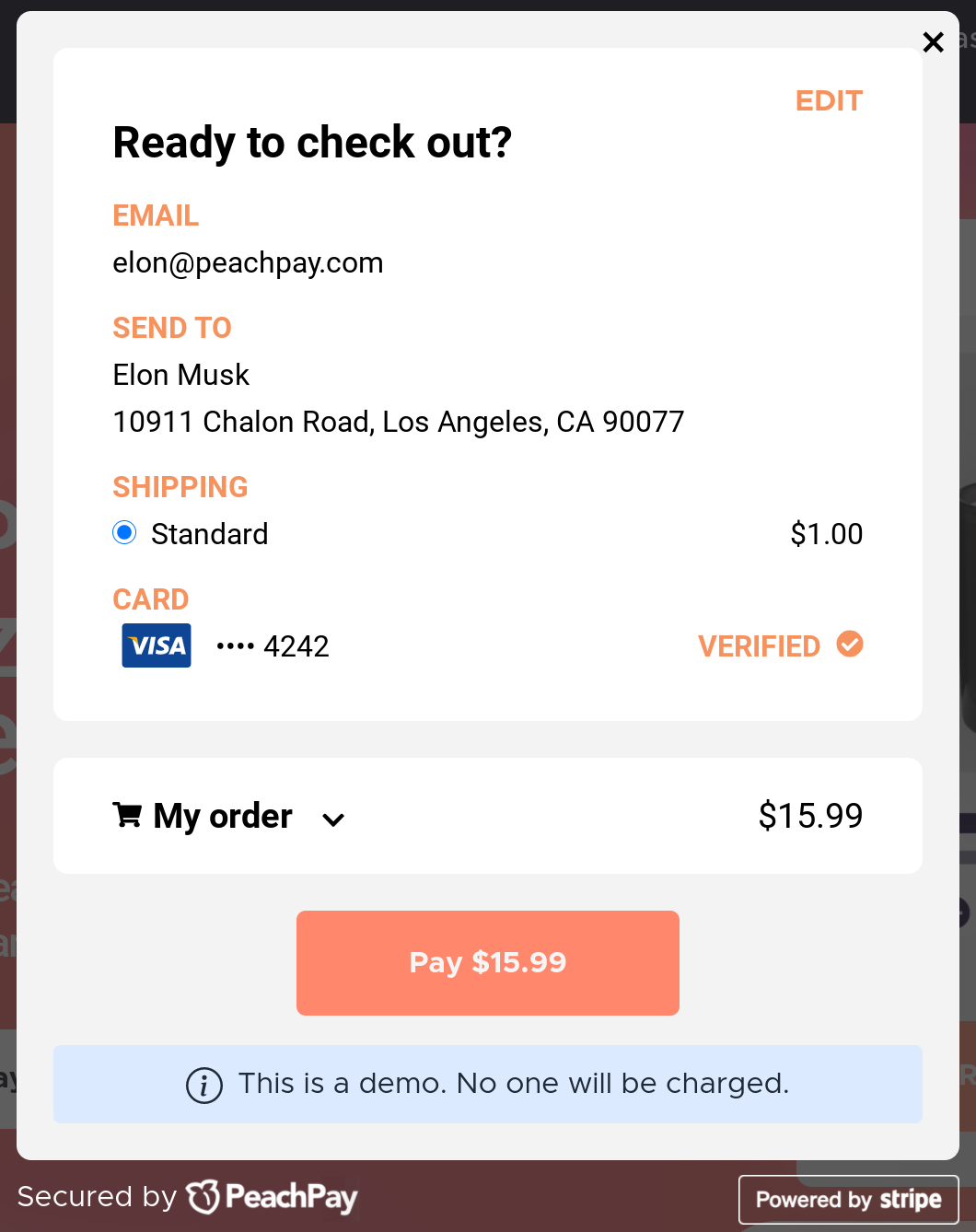 PeachPay boosts average order value
PeachPay lets you make product recommendations right inside your checkout. This practice is known to boost sales and improve the average order value: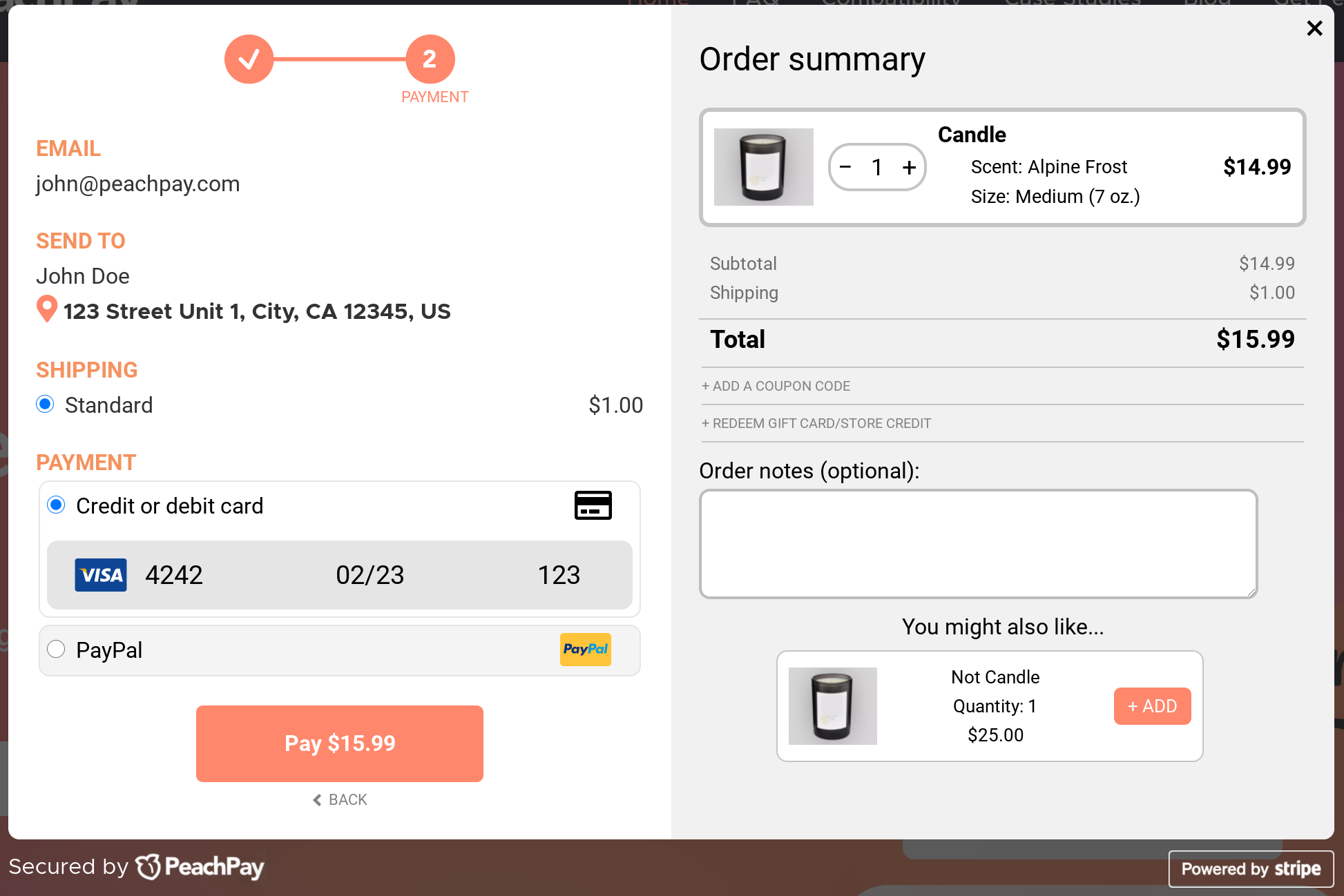 PeachPay is a free plugin. Get started now.
Wrapping it up…
If you want to enable the PayPal payment gateway on your store, you need a PayPal WooCommerce integration plugin. Likewise, if you're going to use the Stripe payment gateway on your store, you need yet another WooCommerce extension. The upside with the Stripe extension you use is that it probably will cover the Google Pay and Apple Pay wallets.
Yet to use these two payment gateways, you're looking at at least two extensions — which translates into more maintenance, errors, and compatibility issues with the other WordPress plugins you might be using.
The solution? PeachPay. PeachPay doesn't just bring these two best WooCommerce payment gateways and multiple payment methods to your online store but also optimizes your entire checkout process. Get started with PeachPay now - it only takes a few minutes to complete the setup.