The list of sales-boosting tactics for [WooCommerce](https://woocommerce.com/) merchants is long. In this post, we explore a rather common way of creating more sales opportunities: upsells. The sales technique is used to increase the average order value (AOV) of a customer by encouraging them to go for a more expensive item while they are buying on your site.
Question is, how do you get the customer to consider a more expensive product? A simple and effective way is to use a plugin that allows you to create and display WooCommerce upsells during checkout.
In this post, we help you gain a better understanding of the benefits of showing upsells or cross-sell offers for your e-commerce store, and take you through seven of the top WooCommerce upsell plugins that boost sales and customers' shopping experience on your site.
What are Upsells and Why Should You Use Them?
Upselling is a sales practice of encouraging customers to buy a comparably higher-end product than the chosen item. The 'Frequently Bought Together' suggestion on Amazon is a good example. It commonly happens during the purchase, but can also happen post-purchase, after the customer has successfully completed the transaction.
A slightly different tactic to increase order value involves encouraging customers to buy related or complementary products in addition to the original item they intended to buy. This is cross-selling, which also increases the sale's value as the customer buys more products in conjunction with the product they intended to buy. For example, the 'Customer Who Bought This Item Also Bought' section on Amazon's product pages.
When you upsell, you sell a more expensive option. When you cross-sell, you sell an item that costs roughly the same as the original product. Yet another sales tactic, down selling, focuses on recommending a lower-priced product. All three sales techniques, when applied wisely, can generate a measurable lift in sales.
Why do upsells, cross-sells and down sells work?
These sales tactics personalize the buying experience by recommending products based on customers' past purchases and their preferences. They work best when you choose products carefully and make value-driven offers. For example, it isn't a good idea to recommend cross-sell items that increase the total order cost by a substantial amount, which can set off alarm bells on overspending and inevitably result in the customer buying the intended product only.
Upselling, cross-selling, down selling are windows of opportunity to optimize the value of every sale. They can contribute towards helping increase the short-term order value and customer lifetime value. Take Amazon, which back in 2006, revealed that 35% of its revenues came directly from cross-sells and upsells. Conversion rate optimization expert Invesp found that 45% of online shoppers are more likely to shop on a site that offers personalized product recommendations, and 56% are more likely to return to a site that recommends products.
How to use upselling for your WooCommerce store
Although the primary benefit of using upselling is to increase average order value, it also contributes to reducing cart abandonment rates and increasing sales velocity. Here's how.
For several reasons, buyers leave the site without purchasing the products they've added to the cart. Sticker shock - seeing how much the product costs after adding shipping costs and other fees - is a top reason for abandoning cart items. Another is a lengthy or complicated checkout process. See the full list of reasons for abandonment during checkout here.
How does upselling affect card abandonment? Well, the sales technique is not only an effective way to increase revenue, but also engagement. It makes customers pause and consider the value of purchasing the higher-end cross-sell item. If you present a value-driven offer, then it is likely to influence the shopper to buy right away.
The other thing is that some online buyers arriving on e-commerce sites have minimal information on the product they're interested in. Showing them 'better' cross-sell products is a good way to elicit their interest and create a positive perception of those items. It can nudge shoppers into choosing the more expensive product recommended especially for them.
Then there's sales velocity, the number of sales your store generates over a timeframe. A sales value equation uses multiple metrics, among them the average order size/deal value. As an effective upselling action, such as a WooCommerce upsell on the checkout page, increases the purchase value per order, it can help boost your sales velocity.
Ways to use WooCommerce upsells on checkout page
You can upsell your WooCommerce products in various ways, including:
Offering related products/services as add-ons: If someone buys a camera from your store, you could offer them accessories like camera bags and tripods as add-ons.

Offering complementary products/services as add-ons: If someone buys a laptop from your store, you could offer them additional services like an extended warranty and accidental damage insurance as add-ons.

Offering bundles of products/services as add-ons: If someone buys a laptop from your store, you could offer them a bundle of accessories like laptop bags, privacy screens and tripods together as add-ons.

Upselling through email marketing campaigns: You can send emails with offers for related products or services based on past purchases or the browsing history of customers on your site.
Shoppers are open to buying an alternative product even if it costs them more so long as it offers them greater value than the original item they sought to buy. That said, upsells and cross-sells are effective only if you offer products that are relevant to the original purchase. The upgrades should make sense price-wise too. Think about how a majority of your customers would respond to a particular upsell offer to select the right alternatives to promote.
What are WooCommerce Upsell plugins?
Upsell plugins for WooCommerce sites are tools designed to encourage customers to purchase more items or add-ons while they're making their purchases. Online stores use them to:
encourage customers to purchase more items or add-ons

increase the average order value of each customer,

increase the likelihood of customers purchasing multiple products at once rather than a single product, and

improve the performance of marketing campaigns by creating personalized product recommendations based on customer behavior and purchase history.
Top 7 WooCommerce Upsell Plugins
In creating this list, we researched how each plugin enabled a WooCommerce upsell at checkout. The plugins display relevant products to online shoppers, and allow you to customize where you want to locate and how you want to present the upsell or cross-sell product suggestions. Have a look at the seven tools and our choice for the best plugin to drive sales with WooCommerce upsells during checkout.
1. PeachPay: An end-to-end-checkout solution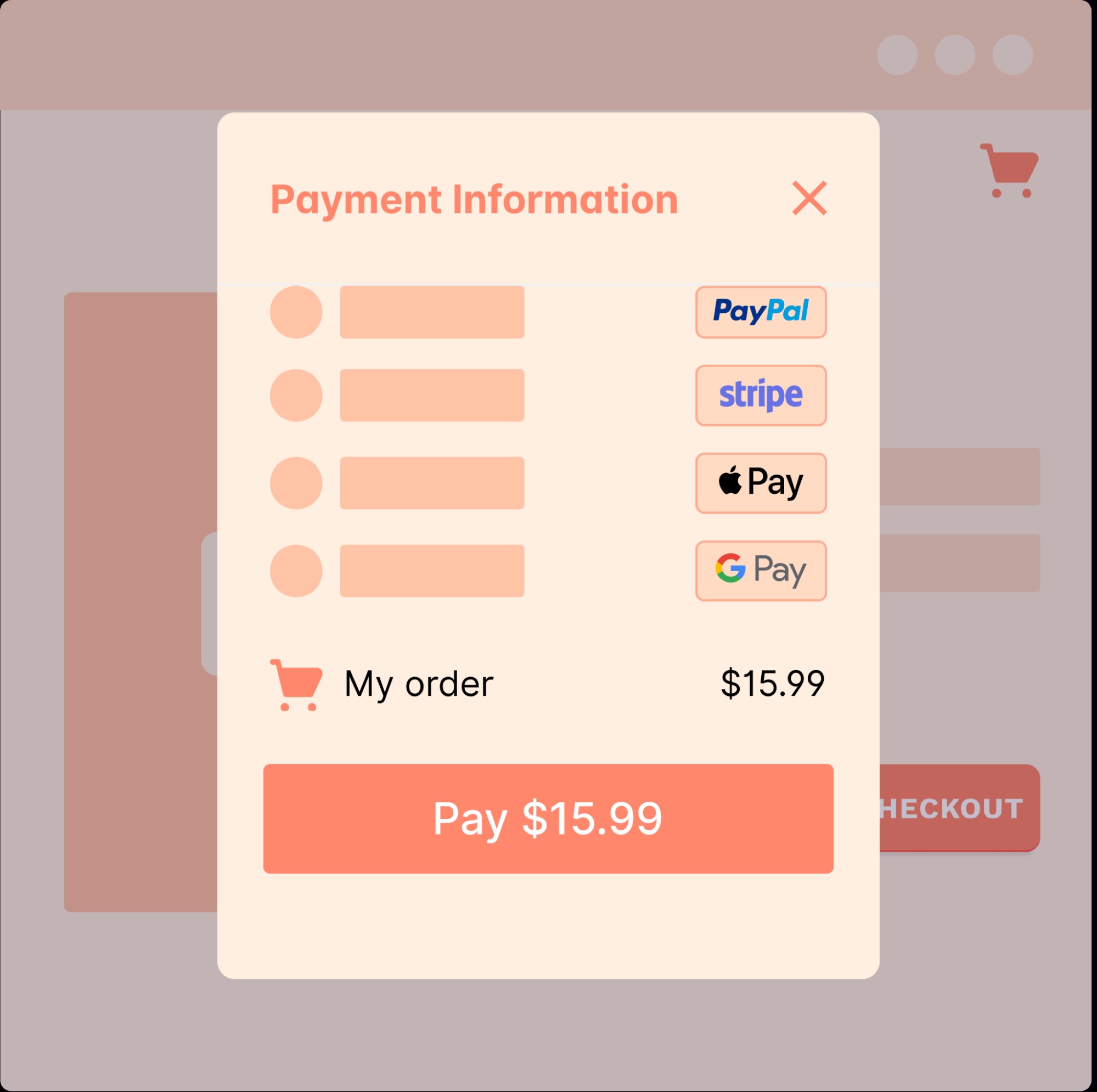 PeachPay integrates out-of-the-box with your WooCommerce store. If you've set up product upsells and cross-sells for your store, they automatically show up in the PeachPay checkout window. There is an option to disable the upsells and cross-sells configured natively through WooCommerce.
The WooCommerce plugin has a 'related products' functionality configurable through the PeachPay plugin settings. You can use it to display a gallery of products in the pop-up window. Upsells, cross-sells and related product recommendations help increase average order values.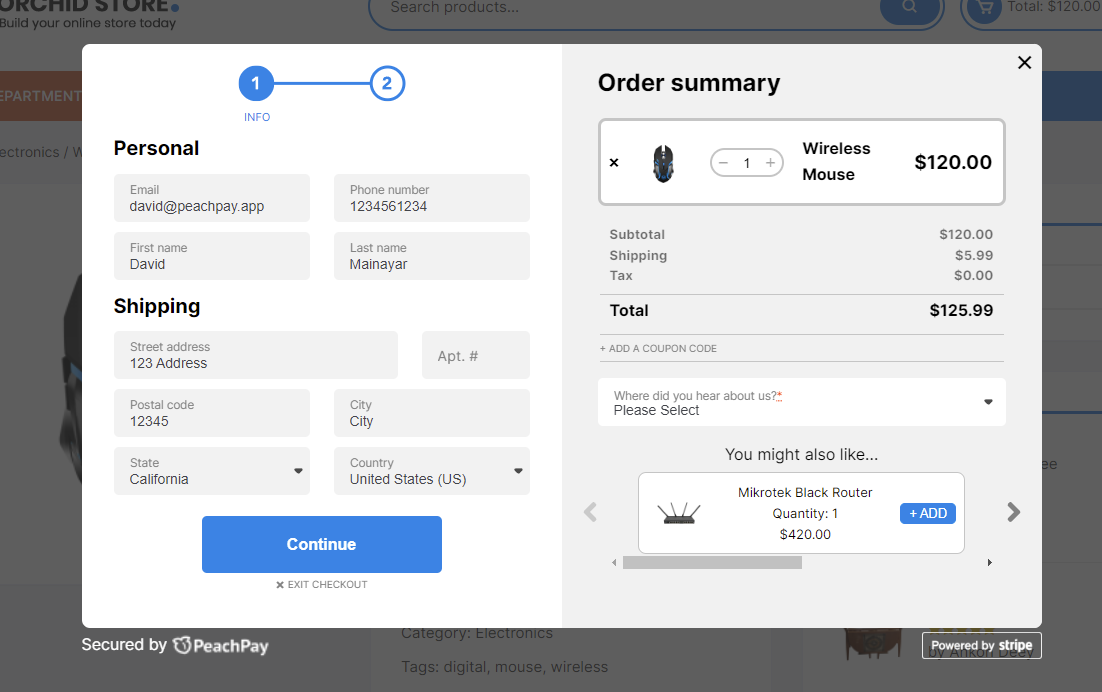 As studies have shown, for lower cart abandonment and product recommendations to work, the checkout process should be uncomplicated and seamless. PeachPay is designed around this logic - to ensure the best checkout flow with a 1-click checkout window.
Essentially, 1-click checkout skips the cart and sends buyers directly to checkout. A checkout window pop-ups on the same page for a seamless buying experience. Here's why a checkout window always works better than a checkout page:
Provides a frictionless buying experience - one checkout and you have a sale

Enables customers to purchase items without leaving the shop page/website

Reduces the number of steps that customers have to take, saving their time and making them more likely to complete their purchase

Stores payment details so repeat customers won't have to add their payment details every single time
PeachPay is accessible from different parts of your online shop through shortcodes. It shows up on the cart page, product page, checkout page, mini cart/sidebar cart, and home or shop gallery page.
You can customize all aspects of the PeachPay checkout button and window, display discount/coupon codes, and sell subscription packages thanks to the plugin's integration with WooCommerce Subscriptions, one among the countless integrations with themes, plugins, extensions and payment gateways (PayPal, Stripe, Google Pay, Apple Pay, Afterpay and Klarna for the moment, with more to be added soon).
PeachPay is a user-friendly plugin to enable WooCommerce upsells at checkout and increase cart upsells. Set-up takes less than five minutes. You can customize your checkout window without applying CSS code. Adding a shortcode in WordPress takes a few steps. Simply add shortcodes on any shop pages and PeachPay will show up to allow quick 1-click checkout. All this at no additional fees!
Not to mention, PeachPay is currently rolling out upsell options that can be configured straight from the PeachPay plugin settings. Merchants will be able to choose whether these show up right when someone clicks the PeachPay button, after they proceed to the next page in the PeachPay checkout window, or after they place an order.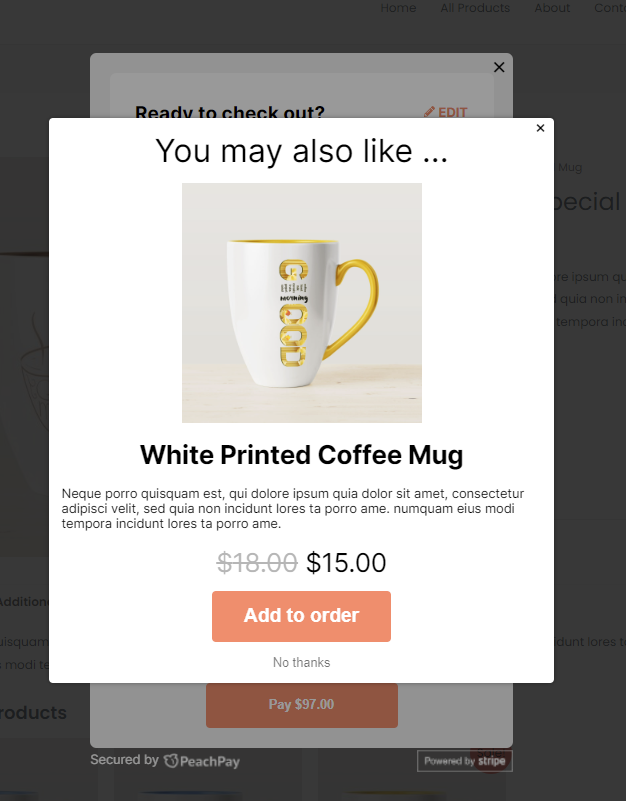 2. Product Add-Ons: Comprehensive add-ons and personalization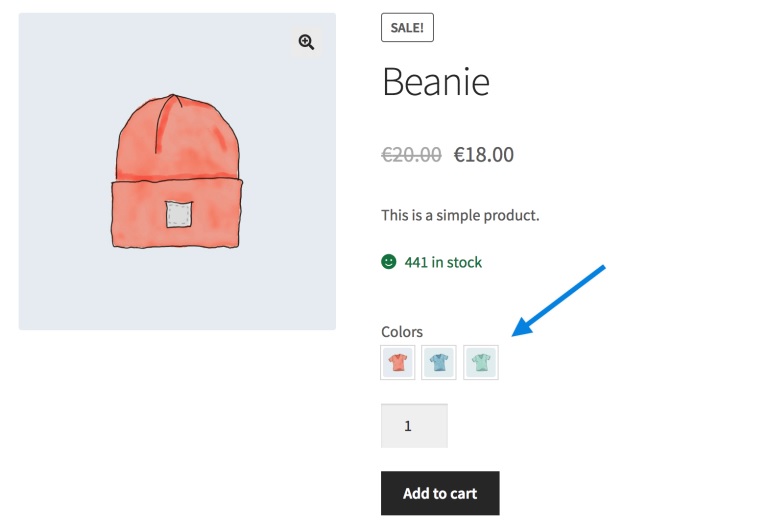 The WooCommerce extension allows your customers to personalize their products while they're shopping on your site. It can be used to show upsells and charge for additional customizations.
You can display add-ons and customization options via text boxes, dropdowns, text areas, checkboxes, custom price inputs, or sample images. For example, you can indicate a flat fee regardless of the number of products the customer has bought, or charge for the add-on based on a certain percent of the total price.
Product Add-Ons is best suited for businesses offering personalized products. It integrates with WooCommerce Subscriptions and WooCommerce Bookings, giving e-commerce store owners, and services like tour providers, salons, rental providers, and others a way to offer add-ons and create sales-boosting upselling opportunities.
3. [Product Recommendations](https://woocommerce.com/products/product-recommendations/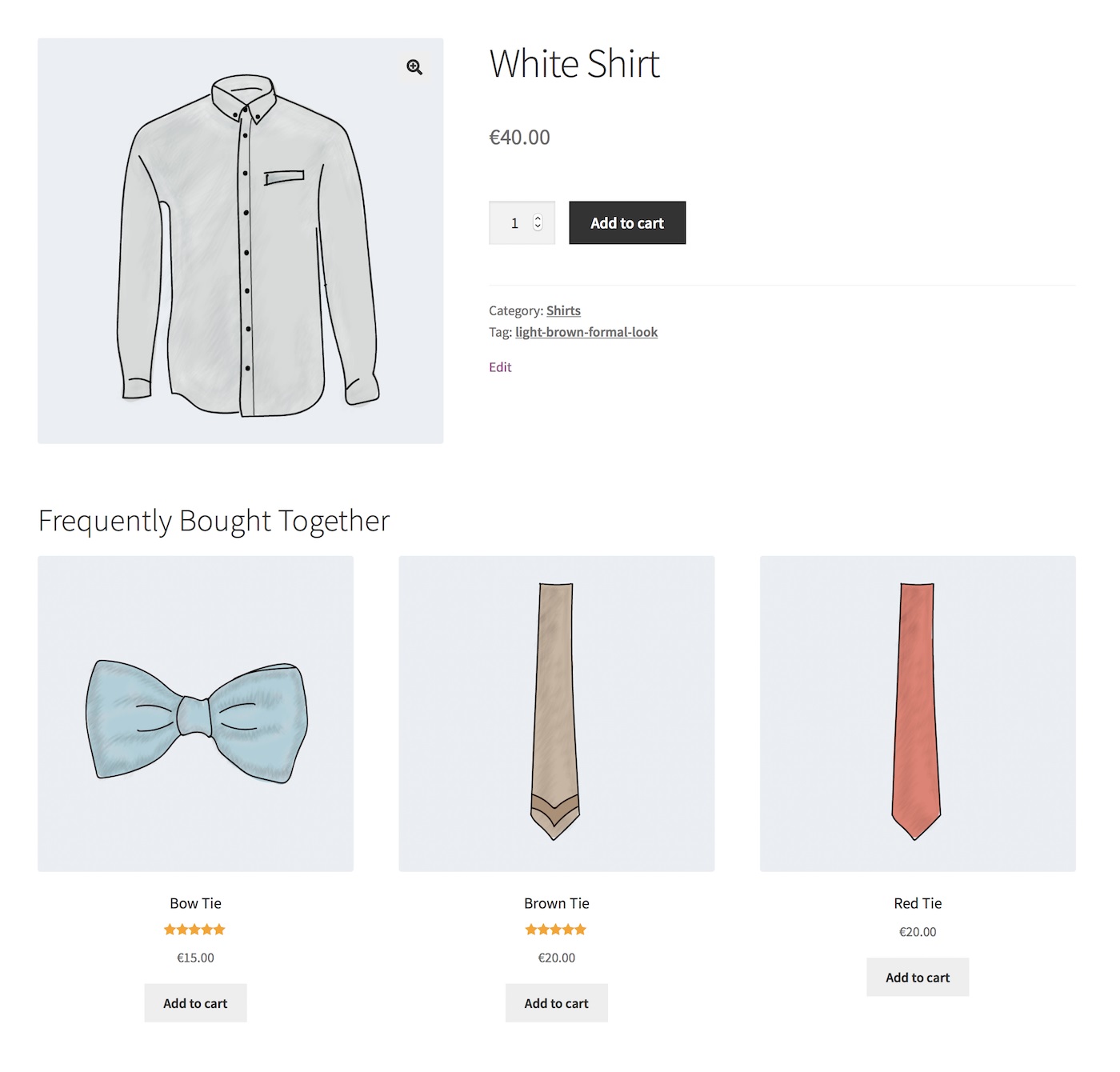 The plugin uses machine language to generate intelligent upsells and cross-sells based on parameters such as category, price, popularity, ratings, and freshness (old to new). You can implement product suggestions at more than 20 locations on your online store, including the cart and checkout pages, main shop page, product category pages, and individual product pages.
Product Recommendations is a useful tool for employing various tactics to drive WooCommerce upsells on the checkout page. For example, you can recommend top-rated and best-selling products at the top of your store's product category, offer 'Complete the Look' recommendations on product pages or as post-purchase upsells, and prioritize on-sale and seasonal items.
The tool tracks key sales performance metrics like gross and net revenue, conversions, unique clicks, clicks per unique view, and more. This data is available as a report that you can filter by date, product, location, or engine, and download as a CSV file.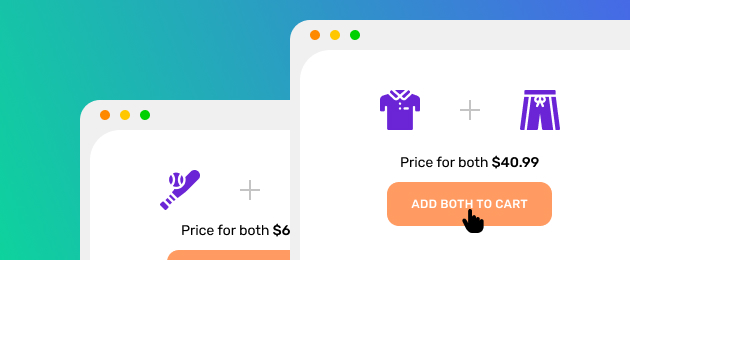 As its name implies, this plugin displays products that are frequently bought together with the items that customers add to their cart. You can assign bulk suggestions for every product in a category, and display product bundles using shortcodes. The tool allows you to customize the position of the recommendations section on the page and its title, background color, style, buttons, and labels. For example, you can include a WooCommerce upsell on the checkout page or display bundles as a list or in a carousel.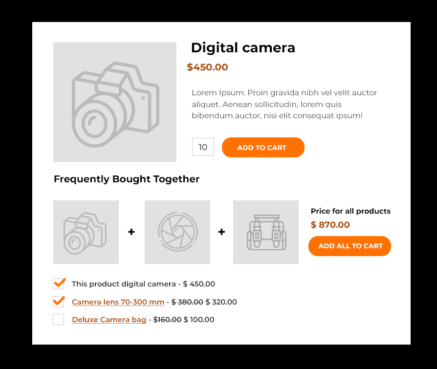 Similar to the previous plugin, YITH Frequently Bought Together enables you to display products or product bundles frequently bought together by your store's customers. Even with the free version, you can choose an unlimited number of suggested products for every product in your store.
You can also choose where you want the upselling product box to show up, such as the below the product tab, below the Add to Cart button, or at the bottom of the page. Alternatively, you can use the built-in shortcodes to choose any other position that you believe can have the most impact. The plugin offers quite a bit of flexibility in customizing your checkout page and choosing multiple products for WooCommerce upsells during checkout.

The plugin analyzes the tags and attributes of products on a shop page or the products customers add to their cart, and suggests related products with the same attributes. It is suitable for showcasing upsell products that are related to other products. An example would be displaying the color selections available for a t-shirt that has been added to the cart.
Within the available options, you can set the number of products you want to display or disable them. You can also configure suggestions to be displayed in posts, pages, and sidebar widgets.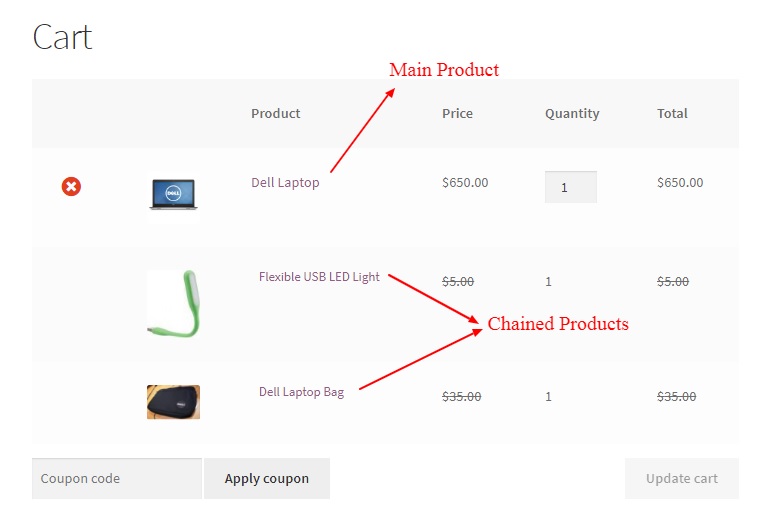 This plugin is best suited to offer pre-made product bundles in your store. Bundled and discounted product combos are proven upsells on eCommerce stores. With Chained Products, you create product bundles by linking products that can be bought together. For example, you can create product chains with 'related products' or 'frequently bought together' products. The chained products show up in the customer's cart and their order page, so there's no chance of missing a WooCommerce upsell on the checkout page.
The Verdict
PeachPay is the best WooCommerce upsell plugin, offering functionalities that increase the chances of shopping carts progressing to successful orders. It is a free plugin and that means you can leverage its profitability-boosting upsell features and create a quicker and more seamless checkout experience for your customers.
Checkout Strategies PeachPay enables
PeachPay brings the cart and checkout to the same page. Shoppers clicking on the 'Express Checkout' can add their details and shipping address in the checkout window instead of being taken to another page to complete their purchase. The checkout window also contains their order summary. Including customer details, orders and cart totals in one compact window makes reviewing this information easy and quick.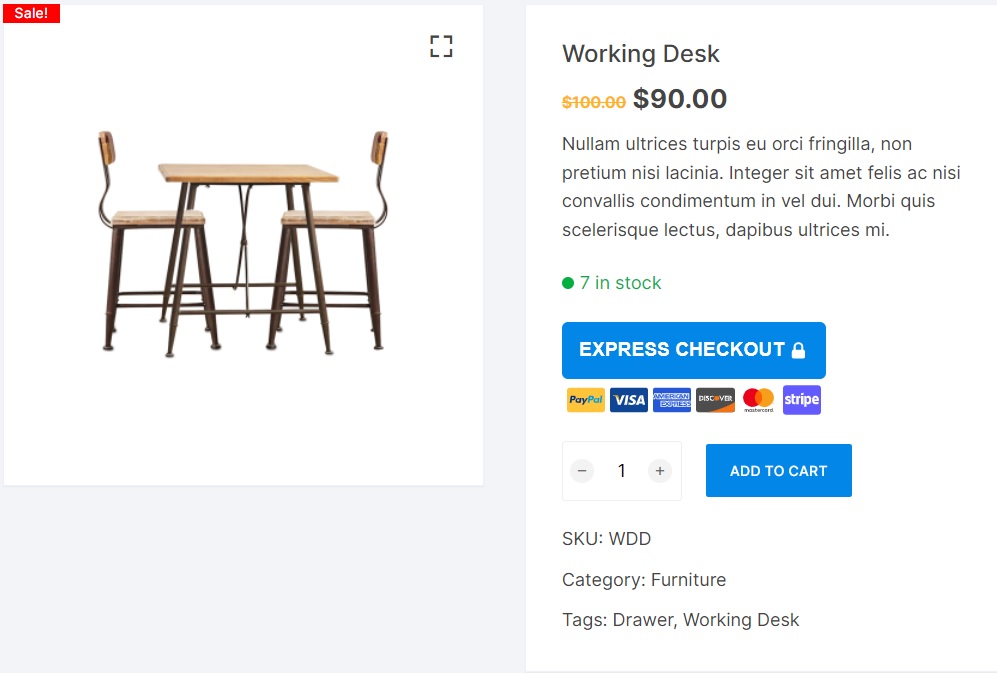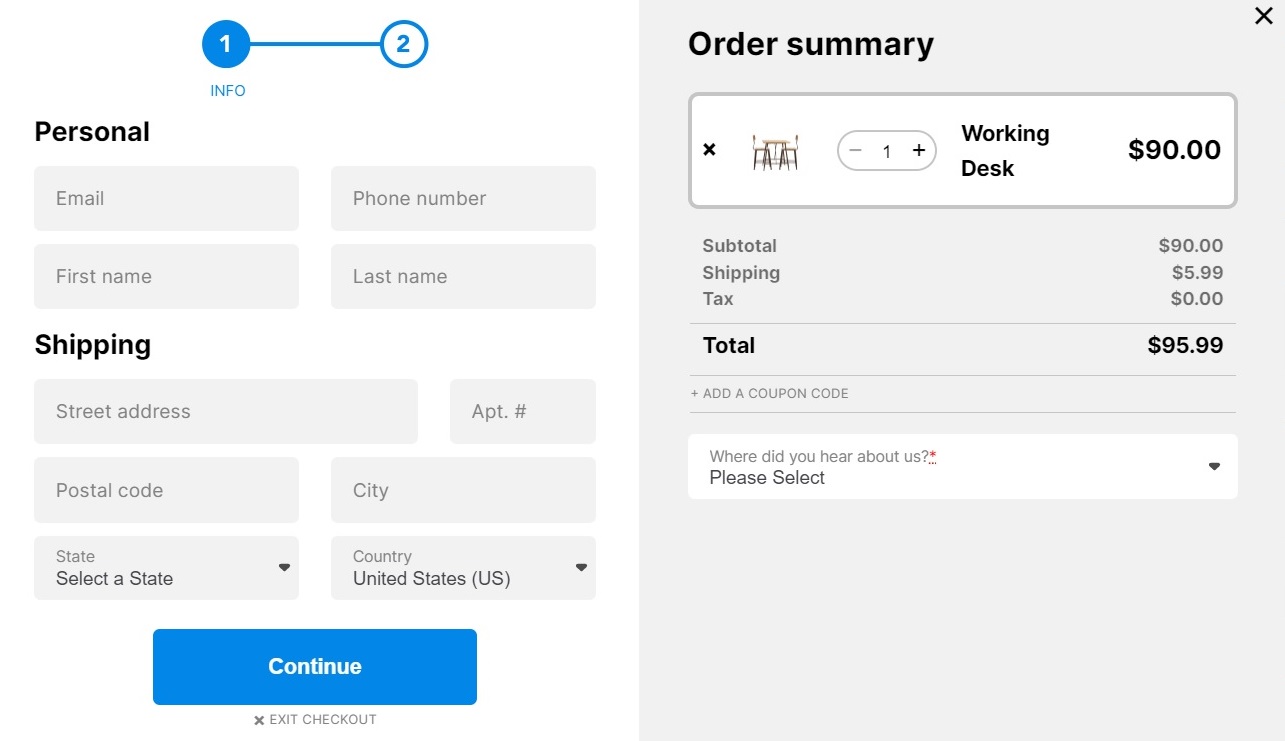 Want to give your customers the option to leave a note while placing their order on your site? PeachPay allows customers to leave order notes. This is a good addition to showcase your fulfillment abilities and also test them to better understand customer requirements and expectations.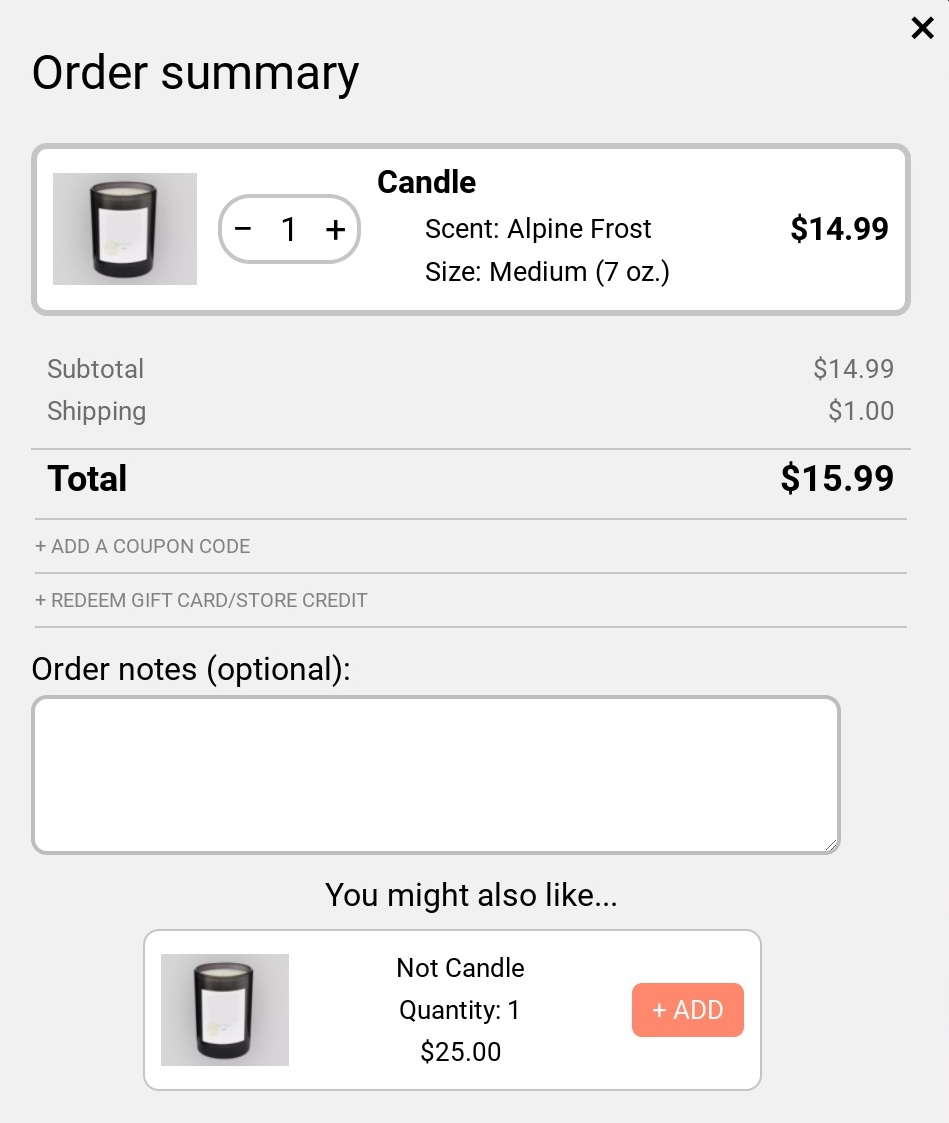 As the plugin integrates with native WooCommerce upsells or cross-sells, you can provide customers with additional purchase opportunities. In addition, you can enable WooCommerce upsells using PeachPay's 'related products' functionality.
Tailor the checkout window to more closely reflect your visual brand identity. You can edit your button color, width, alignment, and the whole layout design of your checkout window. The built-in checkout field editor lets you add, remove and customize fields. You can also add WP shortcodes for placing the checkout button in locations that have proven to increase the chances of WooCommerce checkout upsells. Additional cool customization options include displaying multiple languages and currencies.
PeachPay integrates with PayPal, the top dog in the online payment world. Connect your PayPal business account with PeachPay and if a customer chooses this payment method, they will be redirected to PayPal in a new window. They can then checkout as a guest or log in with their PayPal credentials.
PeachPay's compatibility and integration with PayPal is stable and reliable, as businesses reliant on PayPal have discovered. The digital retailer You Go Pro Baseball struggled with every PayPal plugin they implemented and lost sales daily in the process until they implemented PeachPay. It streamlined the checkout process for their customers, which saw the company's checkout conversions skyrocket.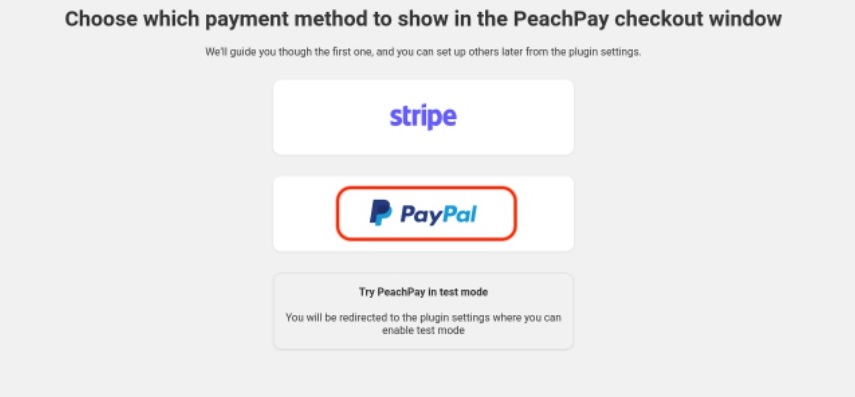 Drive WooCommerce One-Click Upsells with PeachPay
PeachPay enables WooCommerce upsells during checkout and optimizes the entire checkout process. Explore how you can use it to create a one-click upsell funnel that boosts sales. The plugin is free to use, so sign up now to understand if it's a good fit for your business.