Running a successful online business isn't easy. If you don't make the preparations necessary to deliver a frictionless shopping experience, you leave yourself vulnerable to cart abandonment and dampened conversions.
Although a lot of fundamental features come built-in on WooCommerce, there is a wide selection of third-party plugins available that will help you increase conversions and reduce cart abandonment. But, as economists like to remind us, there are always trade-offs. With each plugin added, you risk decreasing pageload speed, which is in itself a contributor to cart abandonment. On the other hand, if you forego plugins completely, your store will likely lose out to competitors who do a better job addressing cart abandonment.
Without further ado, let's jump into it. Of the 50,000 WordPress plugins out there, these 8 stand out for the purposes of WooCommerce merchants.
1. PeachPay for WooCommerce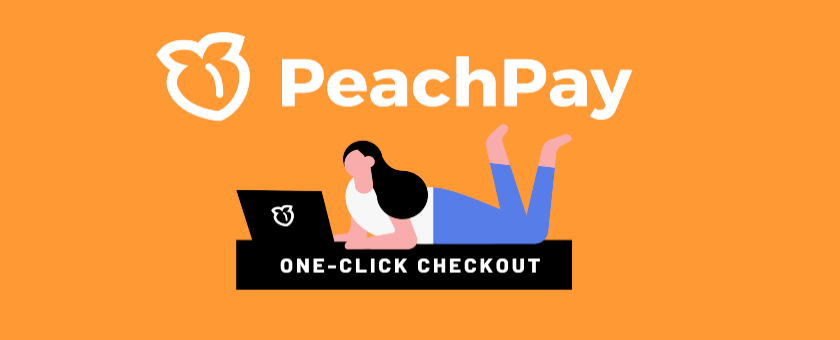 PeachPay for WooCommerce brings one-click checkout to your WooCommerce store. A "Buy with One Click" button is added to your product and cart pages.
The button generates a simple form that a customer only sees once. This plugin saves the customer's information so that they never have to re-input their information on your site or any other site using PeachPay again. After a minutes-long set-up process, you can sit back and kiss cart abandonment goodbye.
PeachPay also offers a supplementary mobile application for post-checkout, including order history, store discovery, and item tracking. With the app, customers can reorder items easily and thereby become loyal customers, who are far less likely to abandon carts.Features of PeachPay For WooCommerce:
Adds a new payment method to your site that integrates seamlessly with your existing methods

Built on top of Stripe, giving you access to fraud protection, instant payouts, and easy payment management through the Stripe dashboard

Generates a streamlined checkout form for first-time users

Gives repeat users access to passwordless one-click checkout no matter which site they are on

Supplementary mobile app gives customers access to order history aggregation, item tracking, and more, so they are more likely to return to your store
2. WooCommerce Product Feed Manager

If you're looking to bring more sales to your WooCommerce store, one of the best ways to do this is by promoting your products on the most popular marketplaces.
WooCommerce Product Feed Manager will allow you to create accurate product feeds for 160+ top online marketplaces and successfully list your products on them.
Features of WooCommerce Product Feed Manager:
Category Mapping with your store category.

Extensive Filter Options for generating feeds.

Scheduled Auto-update of the product feed.

Advanced Custom Fields.

Google Analytics Support for your product feeds.

Facebook Pixel support.
Learn more about WooCommerce Product Feed Manager.
3. OptinMonster

OptinMonster is a powerful conversion and lead generation software that enables you to convert your site visitors into subscribers and customers.
It includes amazing features that let you grow your email list and boost your site conversions without any hassle. This increases loyalty and, again, reduces cart abandonment.
In other words, it'll enable you to create beautiful opt-in forms and show them strategically to your site visitors, so they'll either buy a product or subscribe to your list.
Besides, its A/B testing feature allows you to compare different opt-ins with variations, content designs, and styles, and then pick the best one.
Thus, you can always use the opt-ins that are most successful at converting.
Features of OptinMonster:
Lightbox, Floating Bar, and Slide-in Pop-ups

Gamified Spin a Wheel Pop-Up

Inline SignUp Forms

SideBar Subscribe Forms

Geo-Location Targeting For Pop-Ups

Device-Based Targeting
Learn more about OptinMonster.
4. Booster For WooCommerce

Booster for WooCommerce is a free and open-source plugin WordPress WooCommerce plugin that supercharges your site with excellent powerful features with more than hundreds of modules.
Stuffed with many several features, Booster for WooCommerce is a potential tool for online stores going global.
The most prominent feature is its capability to localize your site depending on the shopper's country.
This plugin supports localization to translate your website, product descriptions, contents, and graphic images to match the language of your targeted audience. A website that feels localized is going to maximize sales and is sure to prevent unneeded cart abandonment.
Features of Booster For WooCommerce:
PDF invoicing

Customize WooCommerce breadcrumbs

Cross-sell products display customization

Bulk Price Converter

Change currency symbol and add custom currencies.

Automatic currency exchange rates for WooCommerce

Display prices for products in different currencies

Add global discount to all products

Multicurrency Product Base Price
Learn more about Booster for WooCommerce.
5. RafflePress

RafflePress is the most powerful and user-friendly WordPress giveaway plugin in the market.
RafflePress makes it super easy to create contests and giveaways for your e-commerce website, blog, and social media platforms. Loyalty, reduced cart abandonment, increased conversions – you get the gist by this point!
You can build engagement with social media fans and website visitors by allowing them to get multiple contest entries for performing different promotional tasks.
Features of RafflePress:
Drag & Drop Giveaway Builder

Viral Giveaway Templates

Responsive Mobile Friendly Giveaway Widget

1-Click Entry + Fraud Protection

Viral Sharing (Refer a Friend)

Social Media Integrations

Marketing & CRM Integrations
Learn more about RafflePress.
6. WooCommerce Multilingual

WooCommerce Multilingual plugin is a free plugin for WooCommerce that translates your product and other WooCommerce pages into different languages.
This is an amazing plugin that helps your shoppers feel comfortable navigating your site and lets them view product information in the language that works for them. Again, localization is important.
Showing product info in the language that your visitors understand, can make a big difference to your revenue.
Features of WooCommerce Multilingual:
Translate all WooCommerce products

Easy translation management for products, categories, and attributes

Keeps the same language through the checkout process

Sends emails to clients and admins in their language

Allows inventory tracking without breaking products into languages
Learn more about WooCommerce Multilingual.
7. Rank Math SEO

Rank Math SEO is a crucial WordPress plugin to make people find your store when they are looking for it. Getting more organic traffic is key to building your WooCommerce store.
It can make your store draw more customers by making it appear SERPsrch. Since this is a WordPress plugin, you'll need to improve your WordPress SEO by modifying your WooCommerce store.
However, this plugin integrates with WooCommerce easily in minutes. So you can start leveraging its SEO features right away. And the best part is you'll be drawing in customers who are actually interested in your offerings and who won't, therefore, be as inclined to abandon their carts.
Features of Rank Math SEO:
Optimal Settings Pre-Selected

Auto Canonical URLs

LSI Keyword Tool Integrated

Google Search Console Integration

Google Keyword Ranking

Import Other Plugin Settings
Learn more about Rank Math SEO.
8. Smart Coupons for WooCommerce

Smart Coupons for WooCommerce not only lets you create and manage coupons, it introduces a number of features that allow you to configure "smart coupons," as the plugin name implies. In other words, the plugin introduces a number of features permitting the configuration of coupons with extensive usage restrictions and checkout options. It allows you to create duplicate coupons, embed multiple giveaway products in a coupon, and much more. There is also a premium version of the plugin, which is a must-have for merchants seeking to fully capitalize on their success with coupons.
Features of Smart Coupons for WooCommerce:
Auto-apply coupon functionality

Coupon forms viewable from account page

Coupon restrictions and customization

Coupons based on checkout options and product quantity/subtotal

Giveaway coupons

Duplicatable coupons

Easy coupon URL creation
Learn more about Smart Coupons for WooCommerce.
9. CartFlows
CartFlows is a complete sales funnel builder for WordPress designed to help turn your online store into a more profitable business.
The plugin provides the tools to build one-click upsells, order bumps, dynamic offers and full control over your store's checkout page. Minimize distractions, improve the customer journey and improve revenue with ease.
A key benefit of CartFlows is the cart abandonment tools. You can identify and recover abandoned carts by sending follow up emails, coupons and other incentives to bring customers back and make more revenue.
CartFlows also provides tools for A/B split testing of funnels so you can thoroughly test everything so you can make data-driven decisions.
Features of CartFlows:
Complete sales funnel builder for WordPress

Includes lots of usable templates for funnels

Cart abandonment tools to reduce losses

One click order bump and upsell tools

Dynamic offer features

Checkout page editor
Learn more about CartFlows.
10. Prevent Direct Access Gold
Prevent Direct Access (PDA) Gold proves a perfect plugin for securing intellectual properties such as ebooks, videos, and music. It allows you to protect the original file, create private download links for customers to download it, limit the number of downloads, and set the expiration time for your file.
On top of that, the plugin helps block search engines from indexing your digital files. Since then, you don't have to worry about users guessing your file URL or looking for it randomly on SERPs.
PDA Gold also comes with a WooCommerce Integration extension assisting you in restricting order page access by IP addresses.
Features of PDA Gold
Secure unlimited WordPress media files of all types

Restrict file access to specific user roles

Create private download links for users to download

Manage all private download links of a file in one place

Expire private download links based on time or clicks

Encrypt protected WooCommerce product files
Learn more about PDA Gold.
11. Password Protect WordPress Pro
Another way to increase your WooCommerce conversion rate is to password protect products and grant access to premium users. Only specific customers with the correct password can view and purchase them.
Password Protect WordPress (PPWP) Pro turns out to be your ideal solution to lock WooCommerce product pages. The plugin doesn't restrict the number of products you can secure. You can assign multiple passwords to a page and manage all of them in one place.
It's possible for you to hide WooCommerce product tabs with a simple shortcode. For example, the Additional Information, Reviews, or other important tabs.
On top of that, PPWP Pro cooperates with the WooCommerce integration extension letting you password protect the entire shop page with just a click.
Features of PPWP Pro
Create multiple passwords per product

Auto-generate random passwords or customize yours

Copy, edit, deactivate, or remove passwords with ease

Set passwords to certain user roles such as members and customers

Bypass protected product pages via Quick Access Links (QALs) or whitelisted roles

Lock other WordPress content areas, including pages, posts, custom post types, product categories, partial content, or even the entire website
Learn more about PPWP Pro.
HONORABLE MENTION:
Amelia - Wordpress Appointment and Event Booking Plugin.
Wrap Up
There are thousands of WooCommerce plugins out there, and sadly you can't try them all.
The plugins in this article are a great starting point for merchants who are just beginning their e-commerce journey. However, if you're an experienced merchant, you'll also find these plugins useful.