Want to make your WooCommerce store more user-friendly? Consider adding easy, secure payment options to optimize the checkout experience for your customers.
Accepting multiple payment methods is a great way to increase sales for your WooCommerce store and improve customer satisfaction. It also helps you to grow your business faster by optimizing conversions. One of the best ways to do so is to use a tool like WooCommerce Payments.
WooCommerce Payments is safe and secure for online payments. It's available in 15+ countries and supports 135+ payment currencies, among other great features.
In this post, we'll explore the 3 top WooCommerce payment gateways, how to use WooCommerce Payments, and the best tool to support multiple payments while optimizing the checkout experience for your customers.
Why Should You Use Multiple Payment Methods on Your WooCommerce Website?
Accepting multiple payment methods offers convenience to your customers, and can even help you grow your business. Let's take a look at two of the main benefits:
Reduce Cart Abandonment
If customers are unable to pay for their orders using their preferred method, they will simply leave your store without making a purchase. 9% of customers admit to abandoning their cart once they realize that the website offers insufficient payment methods.
This results in lost revenue and poor customer experience for shoppers who were intending to buy something from you.
Make Checkout Easier and Improve Conversions
If you offer multiple payment options, customers can choose the payment method that best suits them.
If they prefer PayPal over credit cards, for example, they can choose to pay via PayPal instead of having to create an account on your site before completing the checkout process. This increases your chances of appealing to a wide base of customers, which can help to improve conversion rates.
Which Payment Gateways or Methods Should You Use?
Choosing a payment gateway for your WooCommerce store goes beyond assessing its payment methods. It requires you to evaluate other factors such as its unique features, its compatibility with your store, and any pros and cons it presents.
To help you make the best decision on which payment gateway to choose, let's look at three options to consider.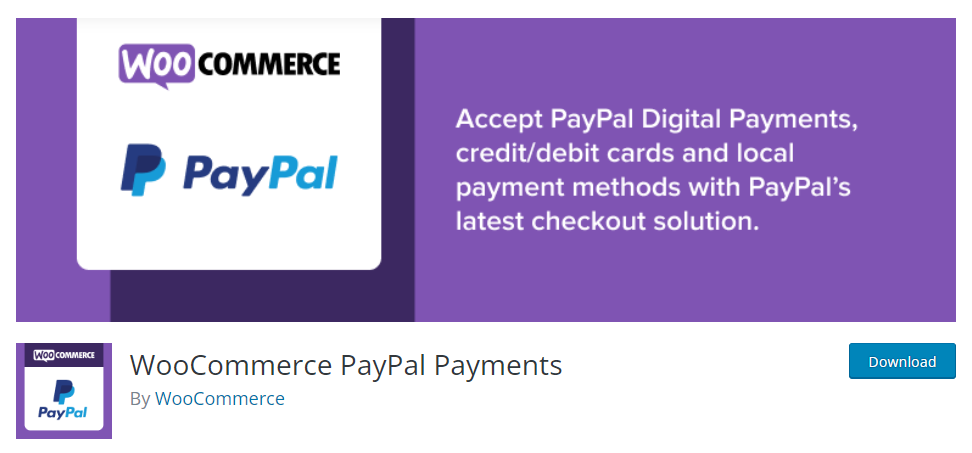 Paypal is the most widely used payment gateway. It can integrate with your WooCommerce store through the WooCommerce PayPal Payments plugin.
Paypal works best for accepting payments via credit cards, debit cards, and PayPal accounts. Its fees vary depending on the buyer's country but on average, you'll pay 2.9% + $0.30 for each transaction.
Some of the pros and cons of using PayPal as a payment gateway include:
Pros
Offers multiple payment systems
Easy to set up
Reasonably priced
You can tap into over 390 million active customer accounts around the globe
Encrypts your customers' bank or credit card information for extra security
Cons
Long processing times for withdrawals
You are subject to account suspension at any time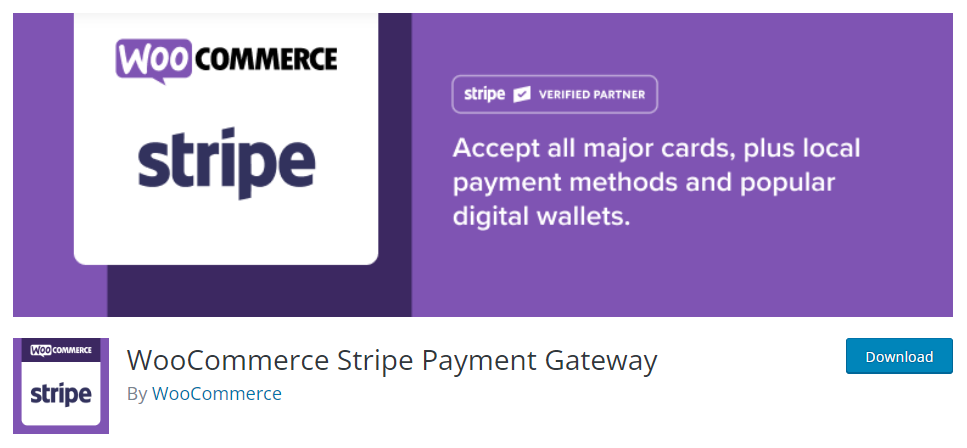 Stripe is the second most widely used payment method. One of the good things about it is that it keeps your shoppers in your store instead of directing them elsewhere to complete transactions.
It can integrate with your WooCommerce store through the official Stripe integration plugin – WooCommerce Stripe Payment Gateway.
Stripe is well suited for WooCommerce subscriptions but can also be used for other types of payments. Just like Paypal, Stripe charges 2.9% + $0.30 for each transaction in the U.S., but the fee and any additional costs such as international transaction fees depend on the region. For example, in the U.S. there is an extra 1% charge for currency conversion, and a further 1% charge if you pay with an international card.
Some of the pros and cons of using Stripe include:
Pros
Easy to set up
Supports multiple payment methods and currencies
Reasonable transaction fees
Highly customizable checkout flow
Offers daily and manual payout schedules
Cons
GEO limitations. Stripe is only acceptable to businesses in 40 countries.
Requires experts to help add features and customize existing ones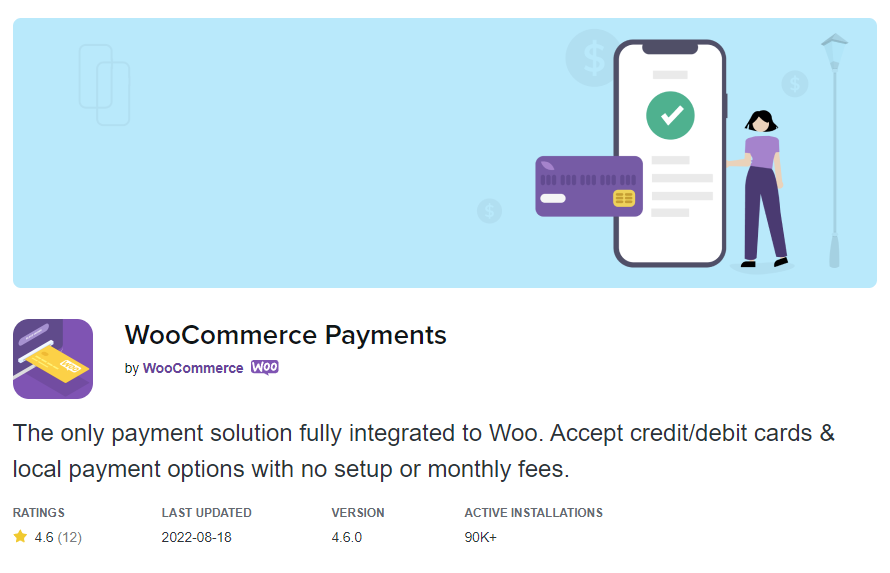 WooCommerce Payments is the official payment gateway for WooCommerce.
Powered by Stripe, WooCommerce Payments offers many similar features, but also has its own unique functionality, including management from the WordPress Admin dashboard. WooCommerce Payments also supports complete transaction and payment tracking and multi-currency support, all without setup fees or monthly payments.
Though both WooCommerce Payments and the WooCommerce Stripe Payment Gateway plugin are powered by Stripe, there are some clear advantages to using WooCommerce Payments rather than the direct Stripe solution. If you use WooCommerce Payments, you can manage all payments directly from your WordPress dashboard, rather than needing to use the external Stripe dashboard. WooCommerce Payments is also much better reviewed than the WooCommerce Stripe Payment Gateway plugin, which has received negative feedback about its level of stability.
Like Stripe and PayPal, there are no monthly fees for using WooCommerce Payments. Transaction fees vary depending on your region – in the U.S., each transaction levies a charge of 2.9% + $0.30 for all cards issued in the United States, an additional 1.5% fee for cards issued outside the U.S., and a further 1% fee if currency conversion is required.
Some of the pros and cons of the WooCommerce payment gateway include:
Pros
Accepts all forms of payments
Highly customizable checkout flow
Enables automatic funds deposits daily, on a two-day rolling basis
Built-in subscription functionality
Cons
Supported in only 18 countries (including the U.S., United Kingdom, Canada, and Australia)
How To Use WooCommerce Payments
Setting up WooCommerce Payments on your site is quite straightforward. Simply work through the following steps to set up the WooCommerce Payments plugin and start processing payments via Stripe, and digital wallets like Apple Pay, Google Pay, and Alipay.
Install and Activate the Plugin
Download the WooCommerce Payments plugin from the WooCommerce extensions store.

Go to your WordPress dashboard and click plugin > Add new.

At the top right corner, click Upload Plugin > Choose file and upload your WooCommerce-payments.zip file from your local file system.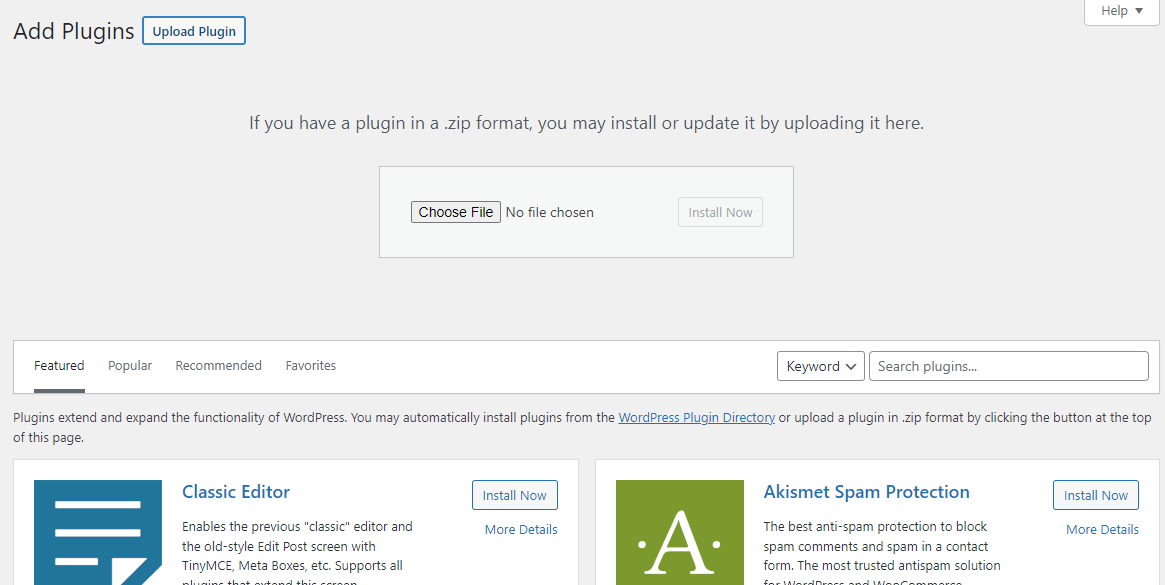 Click Install Now, and once the plugin is installed, activate it at the bottom of the page.
Create a WordPress.com Account
As WooCommerce Payments integrates directly with Stripe, after installing the plugin, you'll need to follow the given prompts to create an account and verify your business details with Stripe.
You'll be asked to fill in basic information about yourself and your business. You'll also be asked to fill out bank account or card details so as to receive payouts.
After this verification with Stripe, you can start receiving credit and debit card payments via WooCommerce Payments immediately.
Activate New Checkout Payment Methods
On your WordPress dashboard, go to Payments > Settings.

Under Payments accepted on checkout, click the Enable in your store button to enable new checkout experiences.

On the new screen that will appear, select your preferred additional payment methods available within your WooCommerce Payments account. You can also enable other express checkouts such as Alipay, Google Pay, or Apple Pay. After enabling all methods you want to offer your customers, click Save Changes at the bottom of the screen.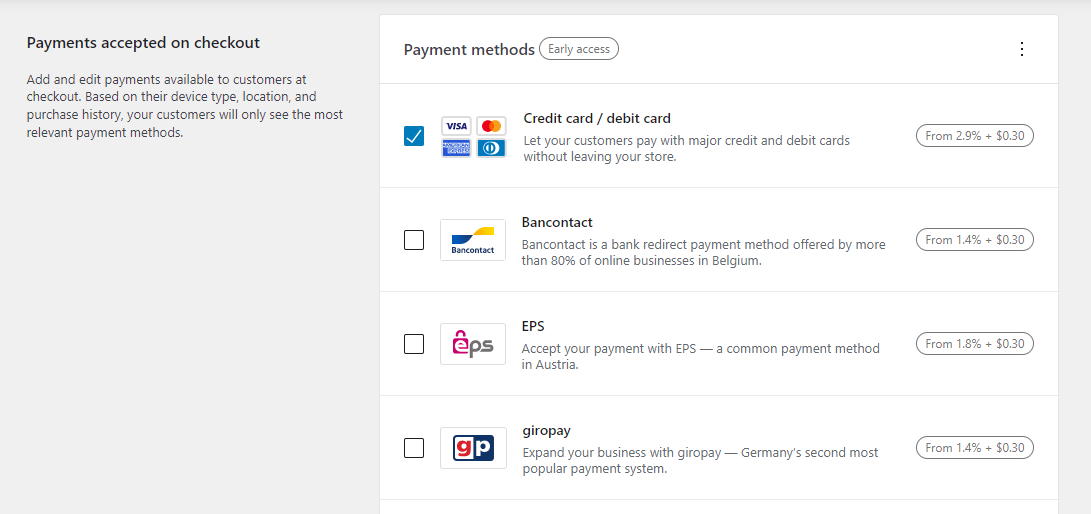 To enable or disable any payment methods, just click the corresponding checkbox and save changes at the bottom of the page.
While WooCommerce Payments has its advantages, it still isn't an ideal solution. It offers a lot of functionality when it comes to payment processing, but not so much for the overall checkout experience.
It's also not available in all countries; it's supported in just 18 countries, and some of its features are also limited to certain countries only. For example, the built-in subscription functionality is only available in the U.S. Instant access to deposits is also only available to retailers in the U.S and at a fee of 1.5% of the payout amount.
In addition, WooCommerce Payments' in-person payment methods – the M2 and WisePad 3 card readers – are not available everywhere. The M2 is only available in the U.S., while the WisePad 3 is restricted to Canada. This means that WooCommerce Payments is not a suitable solution if you are looking to take in-person payments anywhere outside these countries.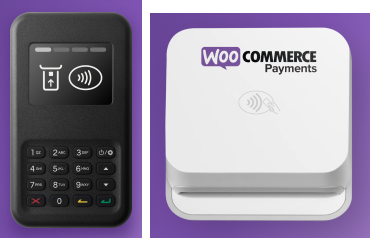 Therefore, you may want to consider other payment methods that offer a one-stop solution for how you receive and manage payments for your WooCommerce online store.
What's the Best Way To Support Multiple Payments on Your WooCommerce Store?
The best way to support multiple payments on your eCommerce platform is to create an optimized 1-click checkout flow using PeachPay. PeachPay is built to help reduce cart abandonment and speed up your customers' checkout times. It can create a more seamless customer experience and streamline your eCommerce store checkout process.
PeachPay is an ideal tool to use for your online business as it offers the following key benefits:
Remove the checkout page
PeachPay is an all-in-one solution that allows you to build a conversion-optimized checkout process, with a checkout window accessible on every page of your store with just one click. This allows you to bypass the need for a checkout page entirely, speeding up the ordering process considerably. PeachPay also enables customers to make purchases with payment information previously entered, reducing the steps that a customer needs to make a purchase which can help minimize cart abandonment.
Customize and optimize your checkout experience
PeachPay offers a wide range of customization options to improve the checkout flow, which none of the other plugins mentioned in this article can do. You can modify every aspect of the checkout window, from the appearance to the included fields. With PeachPay, you can edit your button color, width, alignment, and the whole layout design of your checkout window. You can add fields for discount codes, include upsell and cross-sell product offers, add order notes, and much more.
Accept 13+ supported payment methodsv
As already discussed, WooCommerce Payments is powered by Stripe. PeachPay has the advantage here, as while it integrates with Stripe, it also supports Klarna, Affirm, Afterpay, Google Pay, Apple Pay, Square, and PayPal. And you don't even have to create new accounts – you just have to connect your existing accounts.
PeachPay also supports alternative payment methods such as purchase orders, checks, bank transfers, and cash on delivery. This increases the number of ways you can be paid and improve your customer satisfaction by allowing them to use their preferred payment method.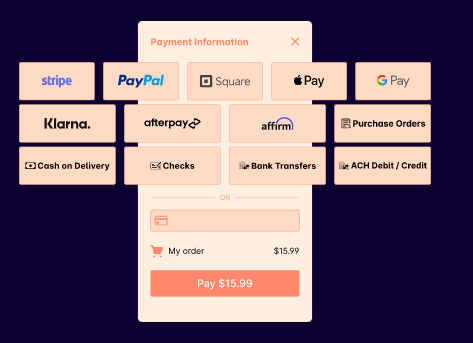 More features to meet your needs
PeachPay also comes with a built-in currency switcher, multi-language options, and an upsell funnel builder, all of which can help push the customers to make the purchase decision much quicker. And this is just scratching the surface of PeachPay's wide feature set.
Optimize Your Checkout Flow With PeachPay
You don't need to have multiple tools to support several payment gateways. You just need one tool – PeachPay.
Here's how you can customize PeachPay's checkout and enable multiple payment methods to create an optimized user checkout process:
On your WordPress site dashboard, go to PeachPay > Settings.

Under the General tab, you can edit the language to be used on the button and in the checkout flow.

Still under the General tab, you can add a custom message on the checkout payment page. This can be a thank you message, a product recommendation, or tips on how to use the product.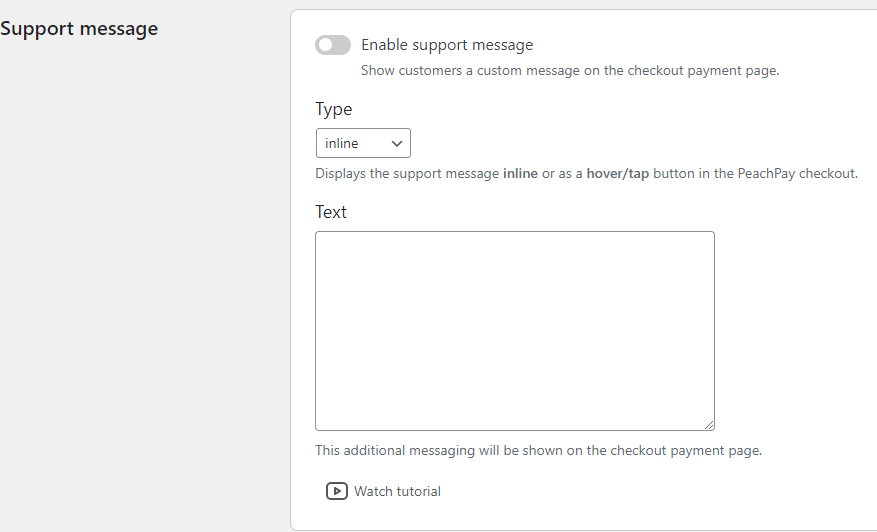 Under the Button Preference tab, you can customize the appearance of your button. You can edit its color, width, alignment, text, and the whole layout design.

Under the Currency tab, you have the option to enable the currency switcher and even choose an auto-update frequency of the currency exchange rate. You can also add more currencies to allow your customers to pay in whichever currency they feel comfortable and familiar with.
Once you've customized your checkout pages using PeachPay, you get an improved checkout flow that your customers will appreciate.
Now let's take a look at how your checkout flow will appear on the customer's end:
Once a customer selects an item they want to buy from the product page, they get access to multiple payment methods. They can choose to pay via any of the methods you've provided.

After they add their product to the cart, they are taken straight to the checkout window, where they'll fill in their shipping information if it's their first time using PeachPay. If they are a return customer, their shipping details will be filled out automatically by PeachPay, allowing them to check out quickly.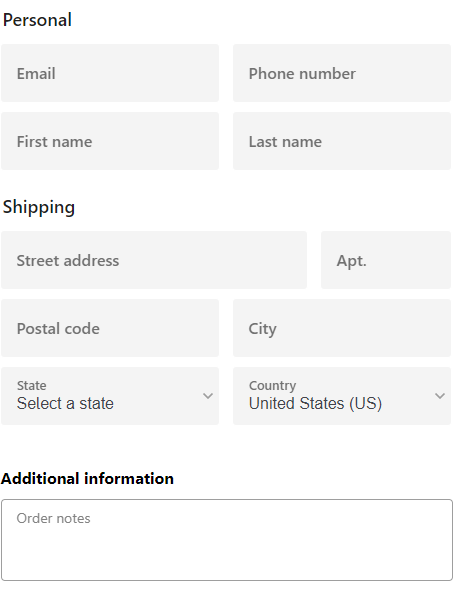 Next, customers will need to fill in their payment details. This is also where they can change the currency from available options and use coupon codes to get discounts.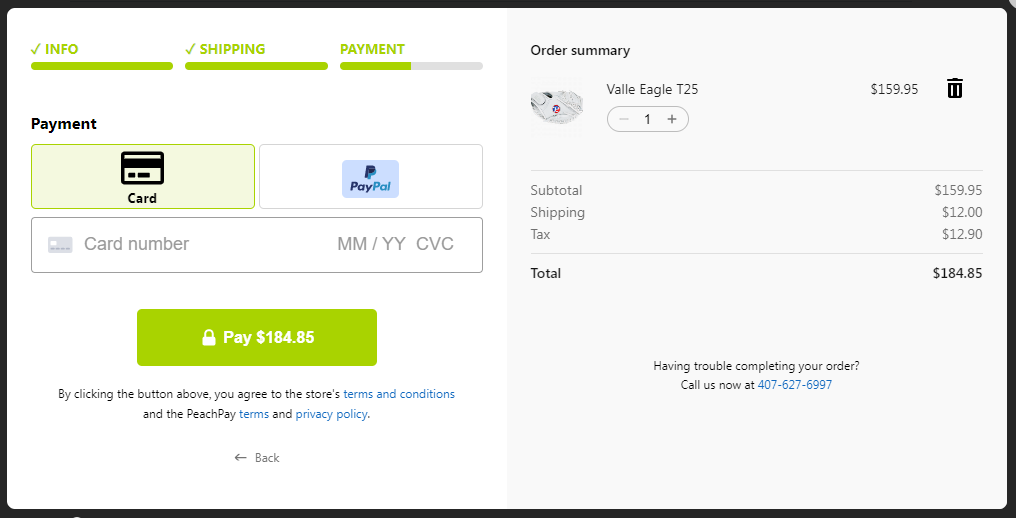 Ready to Upgrade Your WooCommerce Payments?
Having multiple payment options helps you build a better user experience for your customers. It can also help you retain more customers and make your business more appealing to new ones.
Having multiple payment methods also means you have more ways to get paid, which means more earnings. It's a great way to widen your reach and tap into new geographical areas, which can significantly help your business grow exponentially since you'll be increasing your clientele.
There are several ways to offer your customers multiple payment methods, and WooCommerce Payments is one way to do so.
However, PeachPay helps you kick things up a notch.
PeachPay not only supports multiple types of payments and payment gateways but also helps you create a fully optimized 1-click checkout experience.

It also has features such as order notes, discounts and upsells, customizable displays, and more.

It's 3D Secure with Strong Customer Authentication (SCA) support.

PeachPay is also fully compatible with WooCommerce subscriptions and its most popular add-ons.

And most importantly, both the tool and customer support are free! You don't have to pay even a penny to use PeachPay. You get to enjoy all its features for free for as long as you want.
Get PeachPay free today, and begin growing your revenue.