Is your checkout process losing you orders in your WooCommerce store?
With checkout being the final hurdle to closing a sale, you'll want to ensure that the user experience is as frictionless as possible. After all, if you have a super complicated checkout process, then customers may be put off from adding more items to their cart - or even buying anything from you at all. You'll potentially experience:
A loss of sales

Lower average order values (AOVs), which can be even worse than a drop in sales (we'll explain why shortly).

Inventory mismanagement if you can't accurately keep track of the products you've sold.

A loss of repeat orders if customers got burned from a poor first purchase experience
Ouch.
To increase customer satisfaction and ultimately sales, you'll want to simplify and make the checkout process as effortless as possible for customers. In fact, as the Baymard Institute has found, the average large-sized ecommerce store can reap a massive 35.26% increase in conversion rate through better checkout design! If you're running a WooCommerce store, checkout optimization starts with using the right WooCommerce cart plugin - and in this post, we'll share seven of the best WooCommerce cart plugins worth using in 2022.
Why and how should you improve your cart and checkout experience?
When people think about ways of preventing cart abandonment, they may focus on ways of simply stopping people from leaving behind the items they've placed in their shopping carts. In other words, their priority is stemming a reduction in the number of lost sales.
While reducing cart abandonment does involve saving sales that would otherwise have been lost, the core concern should really be on bolstering their AOV. That's because the higher your store's AOV, the more you'd be earning from each customer. Accordingly, you can make more revenue! A higher AOV also means that you enjoy lower customer acquisition costs, especially since these can make up a big chunk of your operational costs.
Of course, customers contribute to your sales and AOV figures only if they're checking out in the first place. Your checkout process hence needs to be easy to use - and even a joy to use - to incentivize customers to complete their purchase. This can include implementing:
One page checkout to make it unnecessary for customers to click through pages and pages of form fields to check out. (Because with every page and click customers need to go through to finalize their order, you risk having them abandon their purchase instead.)

Floating cart windows to help customers conveniently view their cart, and check out anytime, without needing to leave the current store page. As a result, they can conveniently continue shopping and adding items to their cart if they so wish.

One-click checkout where repeat customers don't need to go through the hassle of re-filling out their personal and payment information. Instead, these are all already saved and customers need only click one button to submit their order. This is the gold standard of checkout.
All these features have huge potential for helping online store owners rescue abandoned carts and increase sales and AOV - especially when used together.
For example, just imagine a floating cart window that opens when a customer clicks a particular store product. If the customer has never shopped with the store before, then they need only fill out one to two pages of checkout fields to purchase the product. On the other hand, if the customer is a repeat customer, then they merely have to review their shipping and payment information before clicking a Submit button to confirm their order.
How much higher could your sales and AOV figures be if your ecommerce store leveraged such a smooth checkout experience?
The top 8 WooCommerce cart and checkout plugins
There are many different cart plugins for WooCommerce, and it's important to choose the right one for your store. The best plugins will allow you to add extra features to your store, and will make it easy for customers to complete their orders. Here are seven such plugins to consider using.
1. PeachPay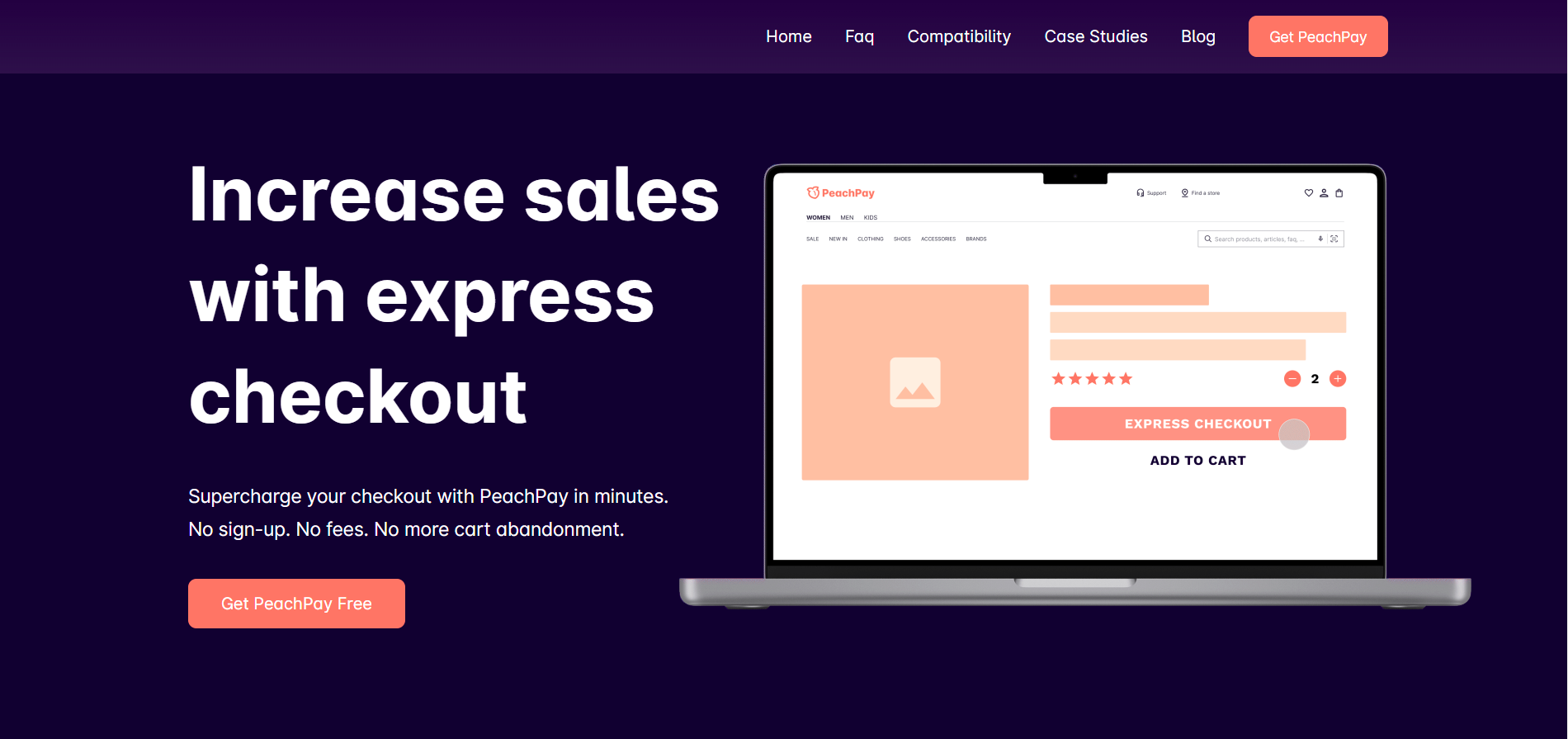 Our free(!) PeachPay plugin is possibly one of the best WooCommerce cart plugins in the market. That's because while many other plugins offer checkout page solutions, we one-up them by offering a checkout window. In other words, when customers click a Purchase button, a checkout window optimized for desktops and mobile devices alike will instantly pop up on the same page, inviting customers to confirm their purchase. Customers don't need to wait for the store to refresh and load a separate checkout process, or navigate multiple checkout pages, to place their order. Instead, checkout is a quick and simple experience. Other outstanding PeachPay features include:
Flexible checkout window customization options, where practically all aspects of the checkout window - such as the button color and text, product image, and the addition/removal of extra checkout fields - are customizable to fit your needs and brand.

Multiple payment options, such as Stripe, PayPal, Apple Pay, and Google Pay, to help customers pay using their preferred payment method. (Especially since not all cart plugins support any or all these payment methods.)

Product recommendations for introducing AOV-boosting up-sells and cross-sells in the checkout window and nudging customers to add more to their order.

One-click checkout for return customers to submit new orders with one click, without having to retype their shipping and payment details.
2. Direct Checkout for WooCommerce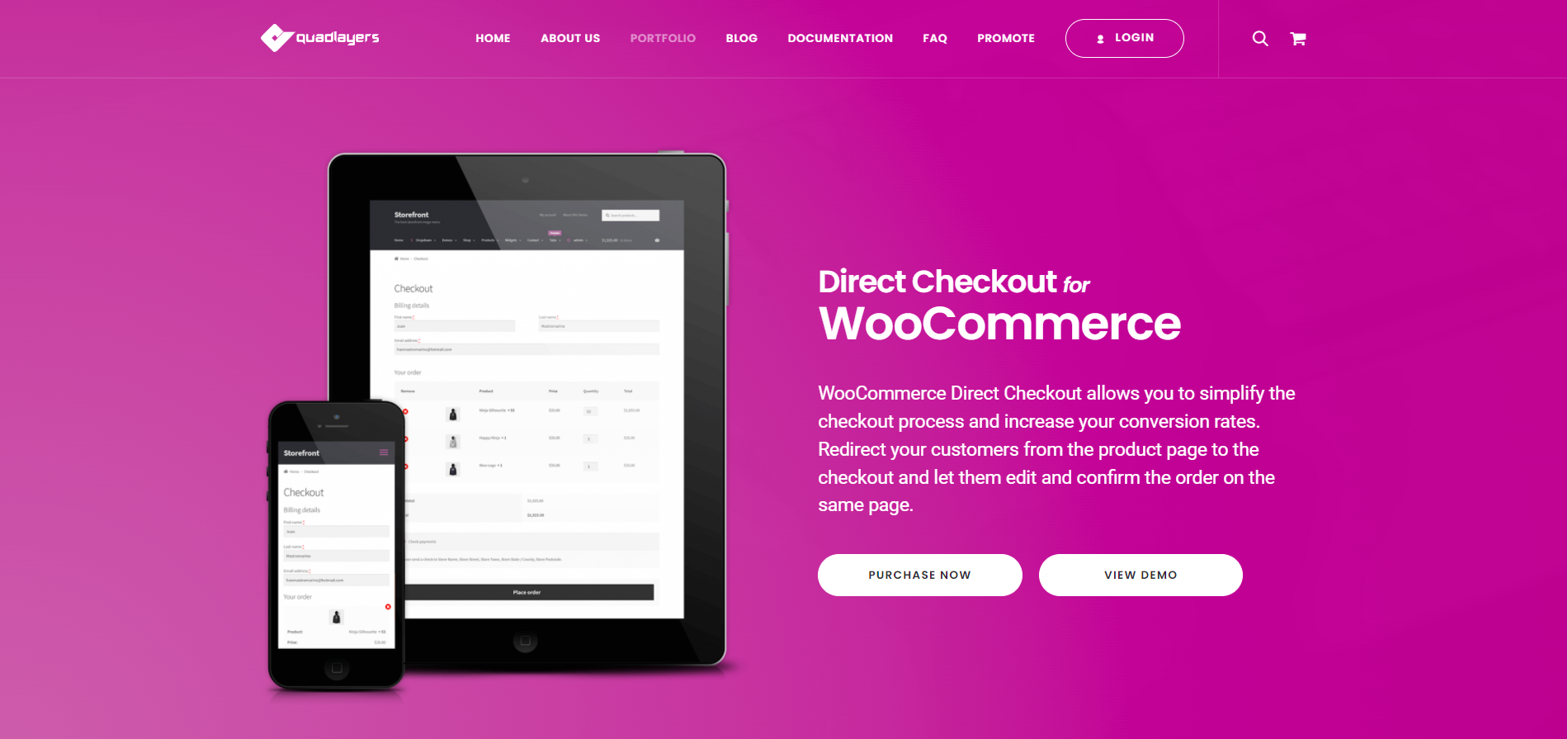 The Direct Checkout for WooCommerce cart plugin offers one-page checkout by combining the cart and checkout pages into a single web page. While this approach purportedly helps reduce cart abandonment, customers may find the resulting single cart and checkout page too long and daunting to complete. Similar to PeachPay's checkout window, the Direct Checkout for WooCommerce plugin's direct purchase feature also helps customers go to checkout from the product page.
Although Direct Checkout for WooCommerce has a free plan, this free plan is more for testing purposes. For instance, the one-page checkout and direct purchase features mentioned above are available only with a paid plan. Meanwhile, have we mentioned how PeachPay is completely free to use, with none of its features locked behind a paywall?
3. CheckoutWC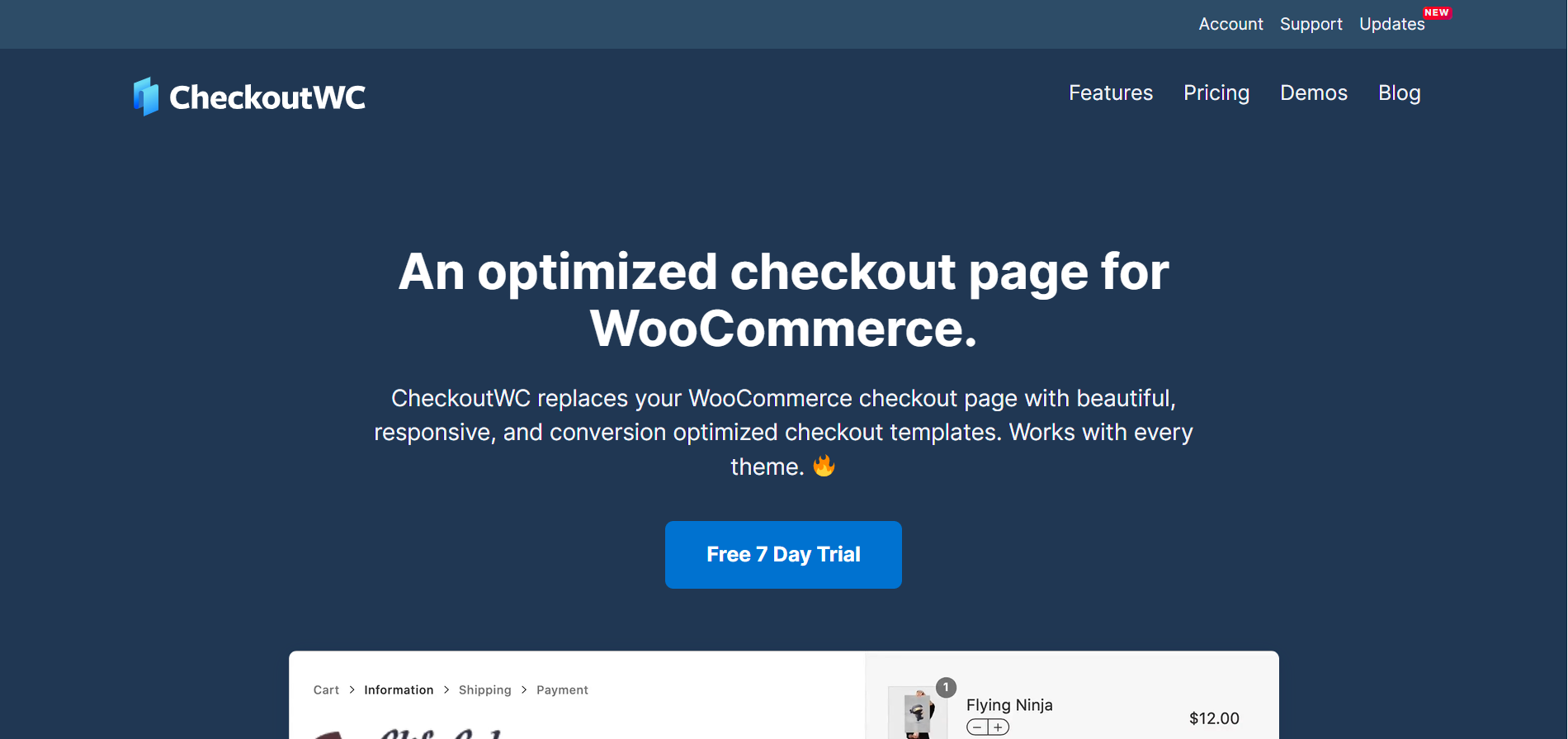 CheckoutWC breaks checkout into a three-step process: information, shipping, and payment. While this is an improvement from the default WooCommerce checkout page, making customers go through three steps to complete checkout is still quite a significant hurdle. This may still leave room for customers to leave without submitting their purchase. In contrast, PeachPay sports a simpler two-step checkout process for new customers - and even better, one-click checkout for returning customers.
CheckoutWC is also rather expensive to use, costing $149/year for its cheapest Basic plan. This Basic plan doesn't include features such as cart editing or one-page checkout. And if you're interested in order bumps, being CheckoutWC's version of our product recommendations feature, then you'd need to shell out for the Pro plan, which costs $349/year. You could save this money by simply opting for PeachPay, which offers all these features for a grand total of zero dollars.
4. Aero Checkout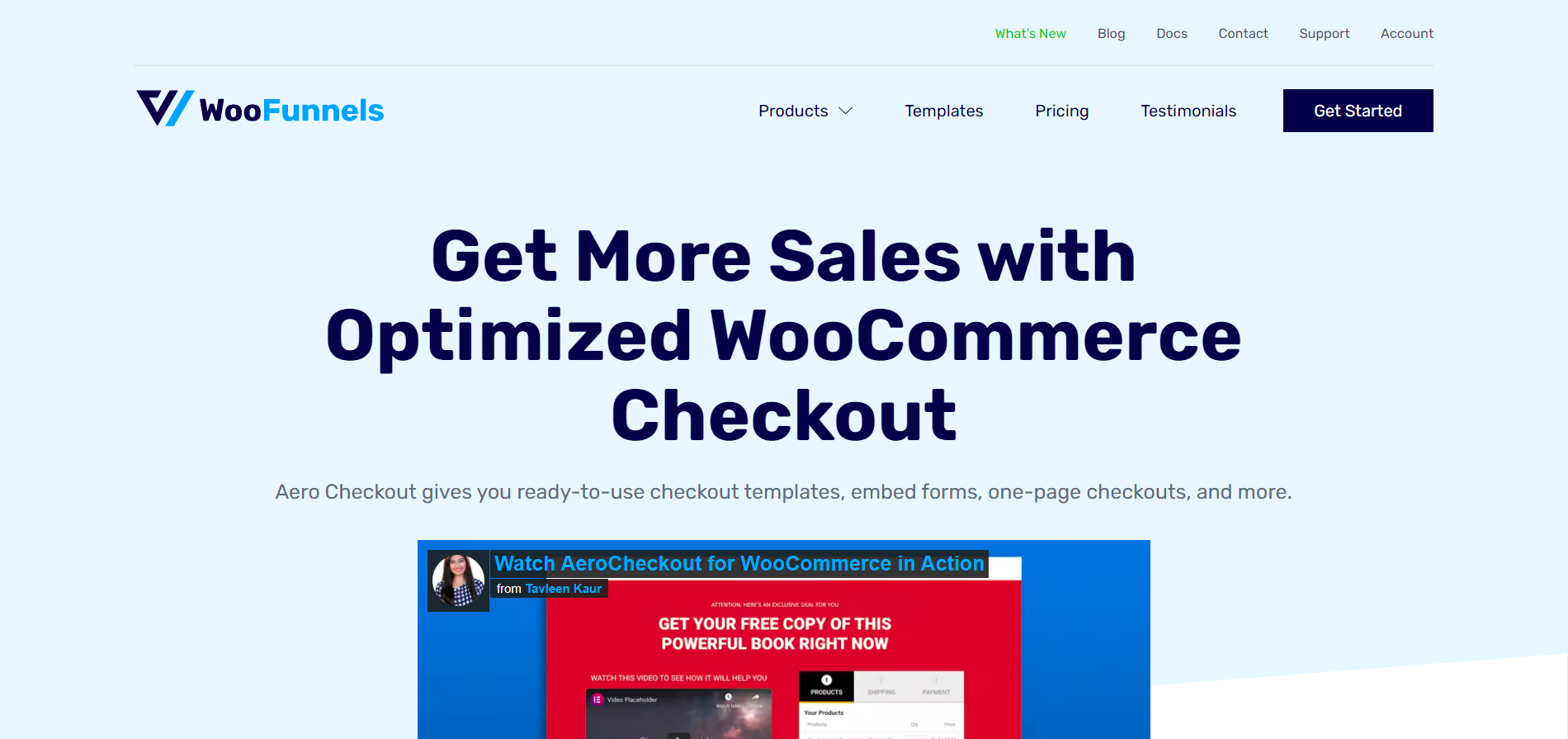 The Aero Checkout WordPress plugin by WooFunnels provides a cart hopper feature for customers to bypass the cart page and head straight to checkout from a product page or custom landing page. After that, they can use a multi-step checkout form to provide their personal information and shipping details to complete the order.
In addition, if the customer has saved their payment details with a payment service such as Apple Pay, Google Pay, or Amazon Pay, then they can also use Aero Checkout's express pay checkout buttons to retrieve their details without re-keying them from scratch.
To use Aero Checkout, however, you'll need to take up a paid plan - there is no free plan, unlike PeachPay - starting from $99/year. At this price point, you get access to cart editing and express pay checkout buttons. However, order bumps are available only on the pricier $129/year plan.
5. Cashier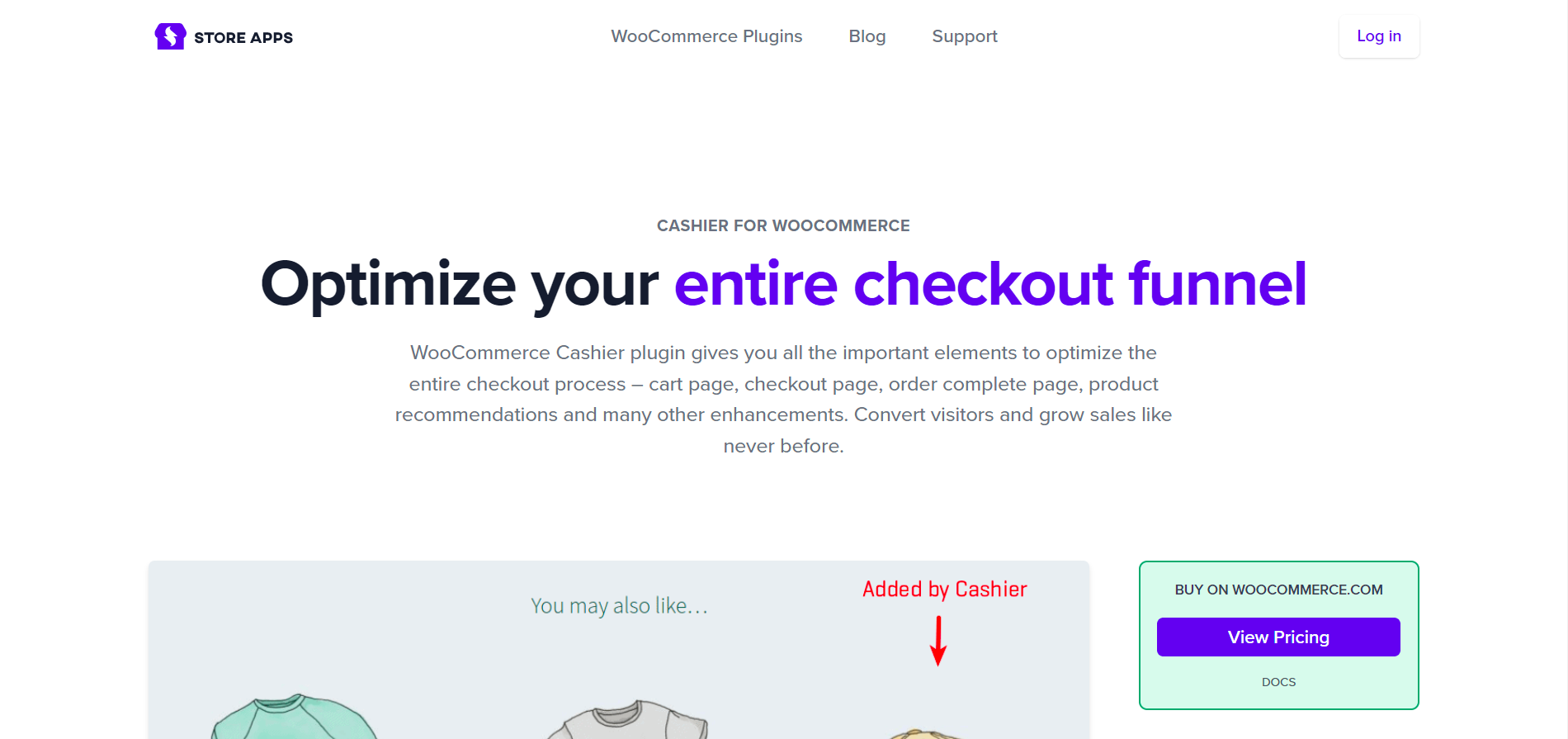 The Cashier plugin streamlines the checkout process by offering direct checkout, which allows customers to skip the checkout page and directly submit their order. If the customer has purchased something from the store before, then Cashier can pull up their previous payment details to facilitate one-click checkout. Other useful features include a cart redirect, side cart, coupon embeds, and related product recommendations.
Unlike PeachPay, however, Cashier currently doesn't offer a checkout field editor. As a result, you have no control over your checkout form fields. You'd have to use Cashier's provided checkout forms as they are, which may not be ideal if you find some of their fields redundant.
6. WooCommerce Fast Cart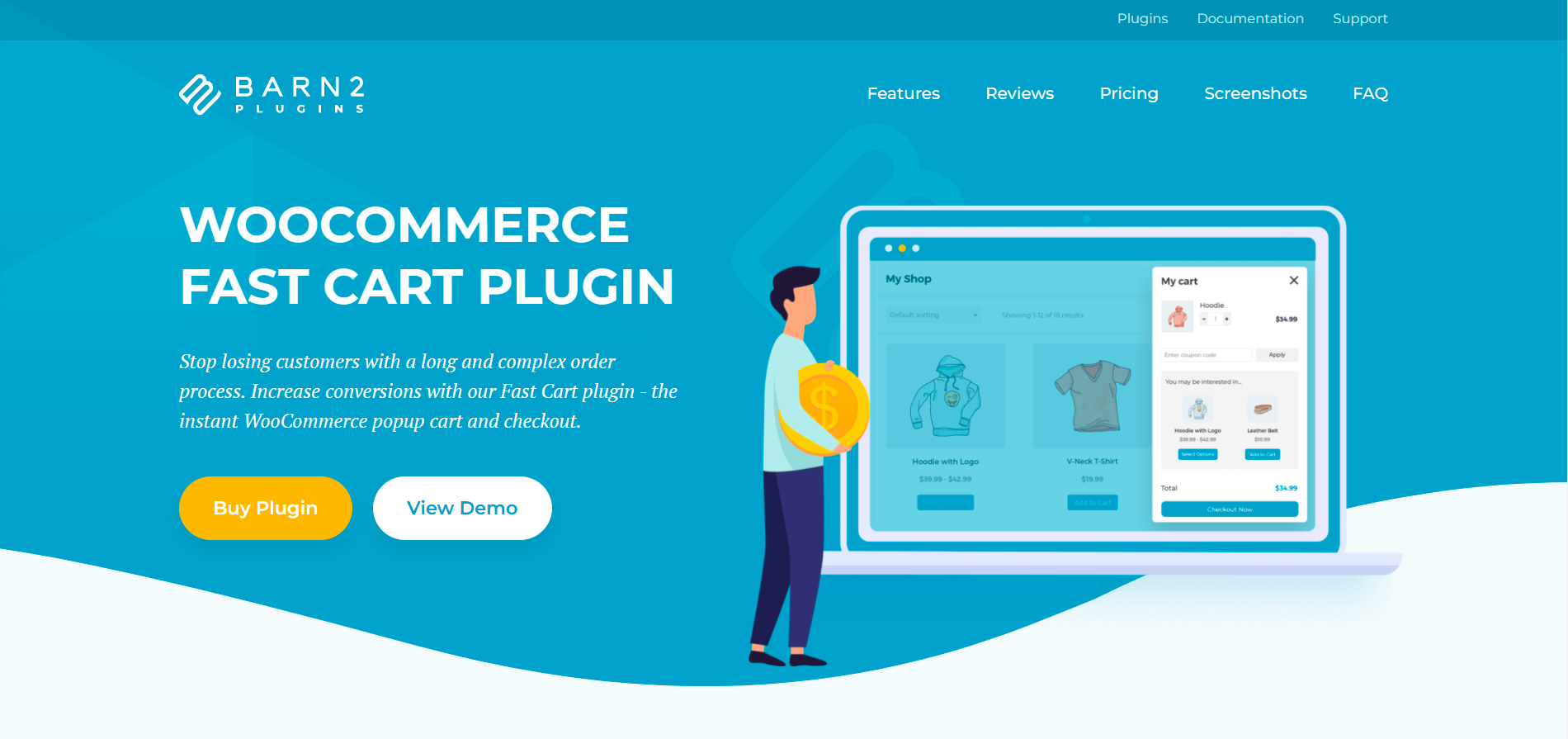 WooCommerce Fast Cart provides a variety of checkout page features for store owners. For example, floating and popup carts let customers view their cart from whichever store page they're on, while direct checkout directs customers to check out right after adding a product to their cart. Fast Cart's checkout pages are highly customizable, and you can also promote related products to increase AOV.
That said, you can't customize your checkout popups' form fields - you'd need to install a separate WooCommerce extension for that. (PeachPay offers checkout field editing out of the box.) Also, WooCommerce Fast Cart isn't the cheapest. It costs $79 for a one-site, one-year license, or $249 for an annual license for one site.
7. WP EasyCart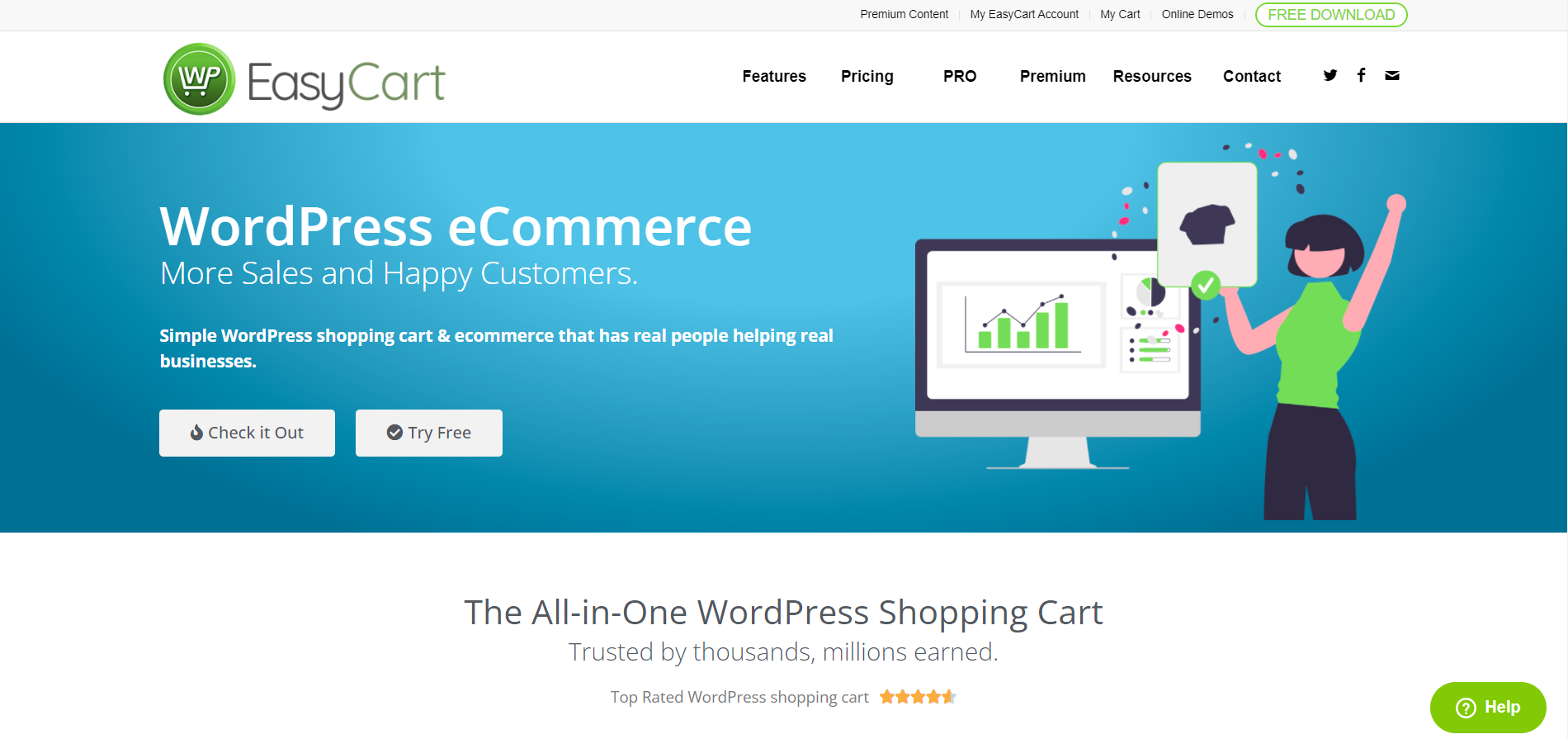 WP EasyCart works differently from the other plugins described here. That's because it isn't a WooCommerce cart plugin, but a replacement to WooCommerce. When installed, WP EasyCart creates customizable store, cart, and account pages to add ecommerce functionality to a WordPress website. The plugin supports Stripe, PayPal, and other major payment gateways, and includes essential ecommerce features such as standard shipping calculators.
While WP EasyCart can be used for free, pro functionality (like wallet payments and tiered volume pricing) requires a paid plan. And because it isn't a dedicated checkout plugin, options for customizing or simplifying your checkout process are rather limited.
Direct checkout for WooCommerce provides multiple checkout methods to facilitate customers quickly checking out for products or services. It provides checkout on the same page, one-click, or sticky checkout method. On-page checkout displays checkout on the same page and enables users to finish. You can redirect your customers directly to the checkout page by skipping the cart with the one-click checkout feature. This plugin allows you to use sticky checkout that slide-ins the checkout form when customers click the cart button.
WooCommerce direct checkout plugin enhances your store and customers' experiences by offering multiple checkout features. It improves user experiences and is one of the cheapest plugins with top-notch functionality. It cost only $29 per site.
What makes PeachPay the best WooCommerce cart plugin choice?
We've covered some of the top WooCommerce cart plugins out there and as it should be clear by now, PeachPay is the best option of the lot! Here's a quick recap why:
It simplifies the checkout process with sleek checkout windows that look great even on mobile. And for returning customers, one-click checkout helps them submit orders in less than five seconds.

It reduces cart abandonment by keeping checkout a simple and easy-to-navigate process. Customers need not fill out countless tedious form fields just to place an order. Having fewer form fields also means fewer chances for customers to make mistakes when filling out their details, which can cause the transaction to fail.

It increases customer satisfaction and AOV for your store as customers find purchasing from you a breeze, and are more than happy to order from you again in the future!
How to create a superior checkout and cart experience with PeachPay
If you're ready to use PeachPay for your WordPress site, then follow this tutorial to set it up: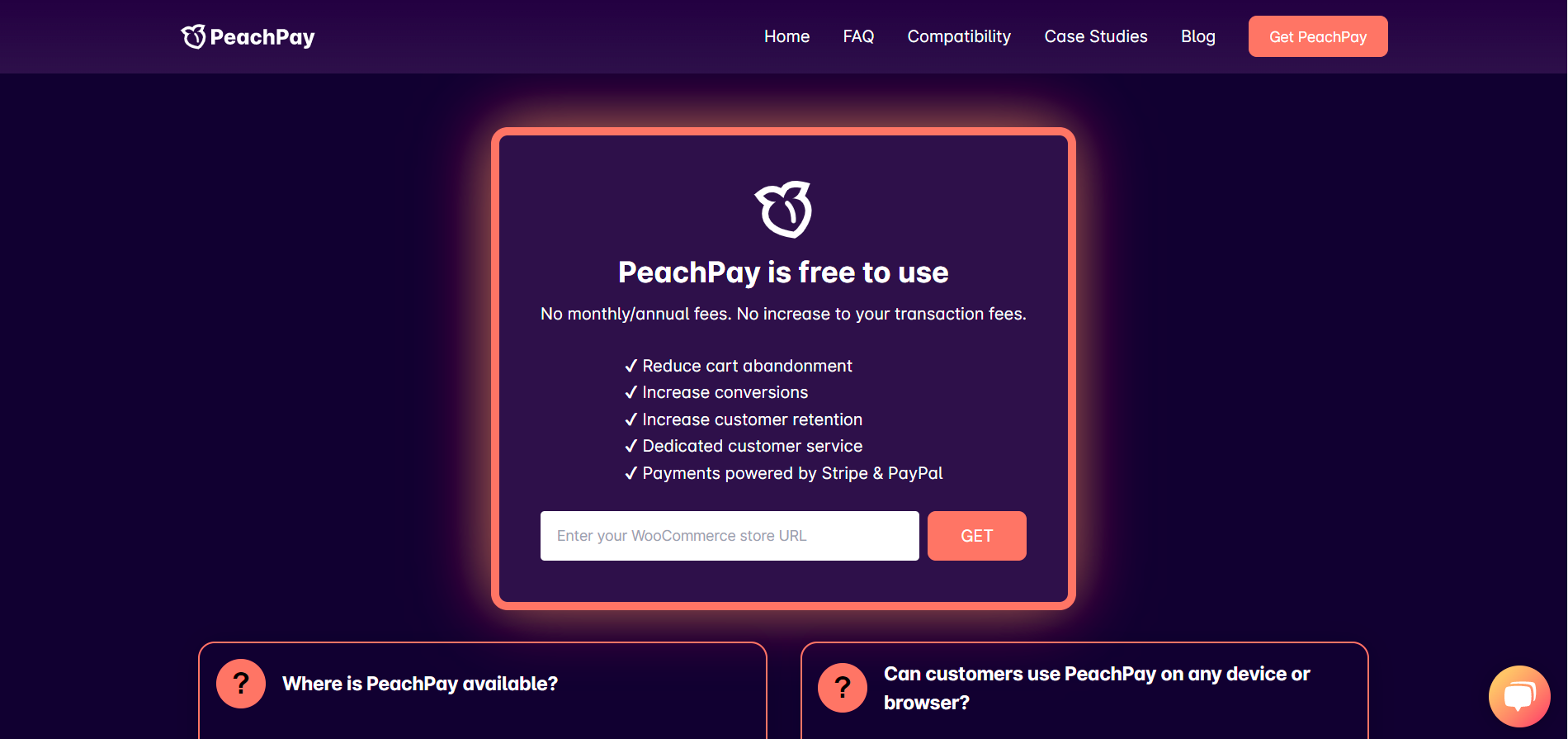 First, go to https://peachpay.app/get and enter your website URL. You'll be redirected to a page to install PeachPay on your WordPress website. Install and activate the plugin.
Next, grant PeachPay permission to connect to your WooCommerce store:
You'll also be asked to integrate payment methods, such as Stripe and PayPal, with PeachPay. You can do so now, or proceed in test mode for the time being.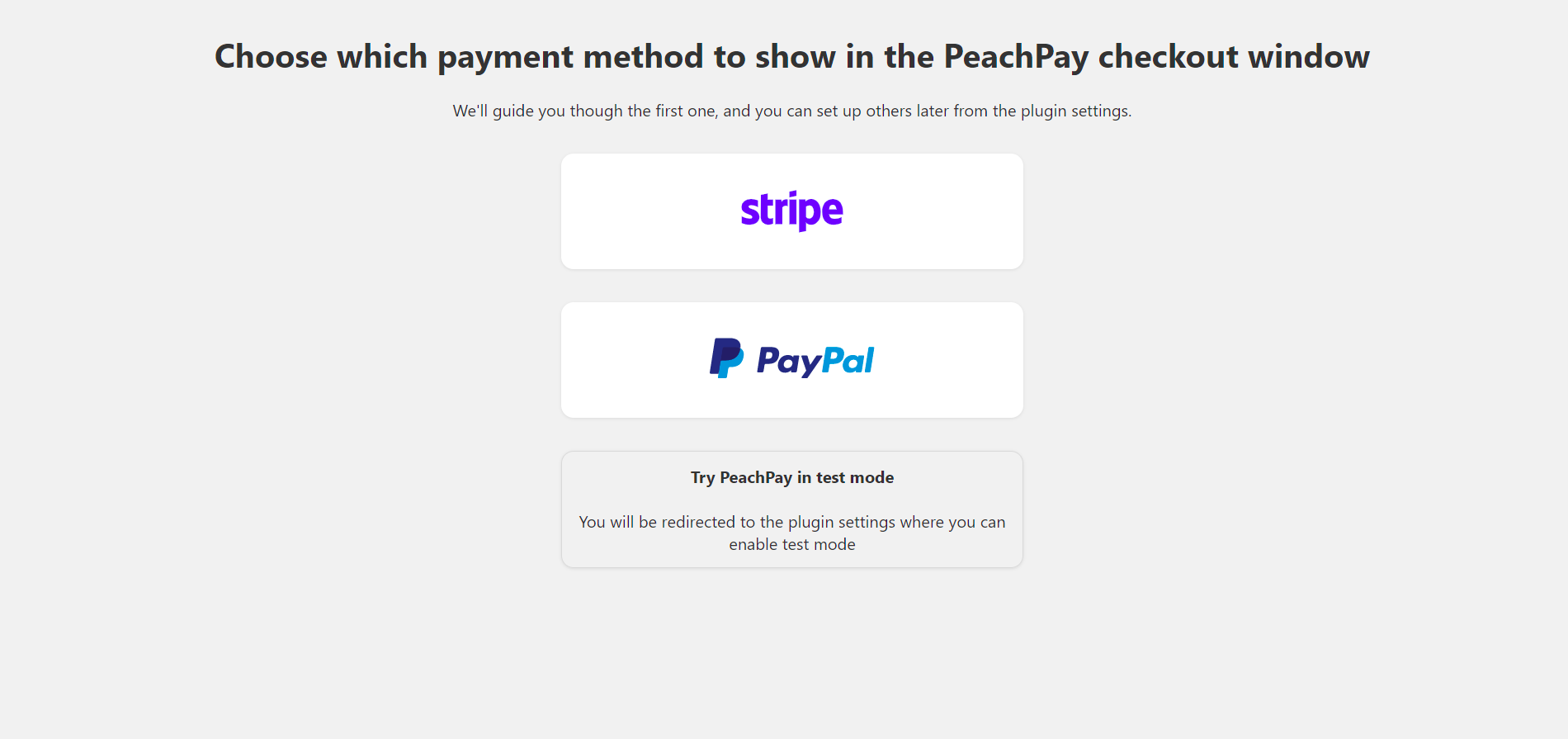 Now comes the fun part: configuring PeachPay! Click the new PeachPay option in the WordPress sidebar to customize the appearance of your checkout button, add more form fields to your checkout window, and more.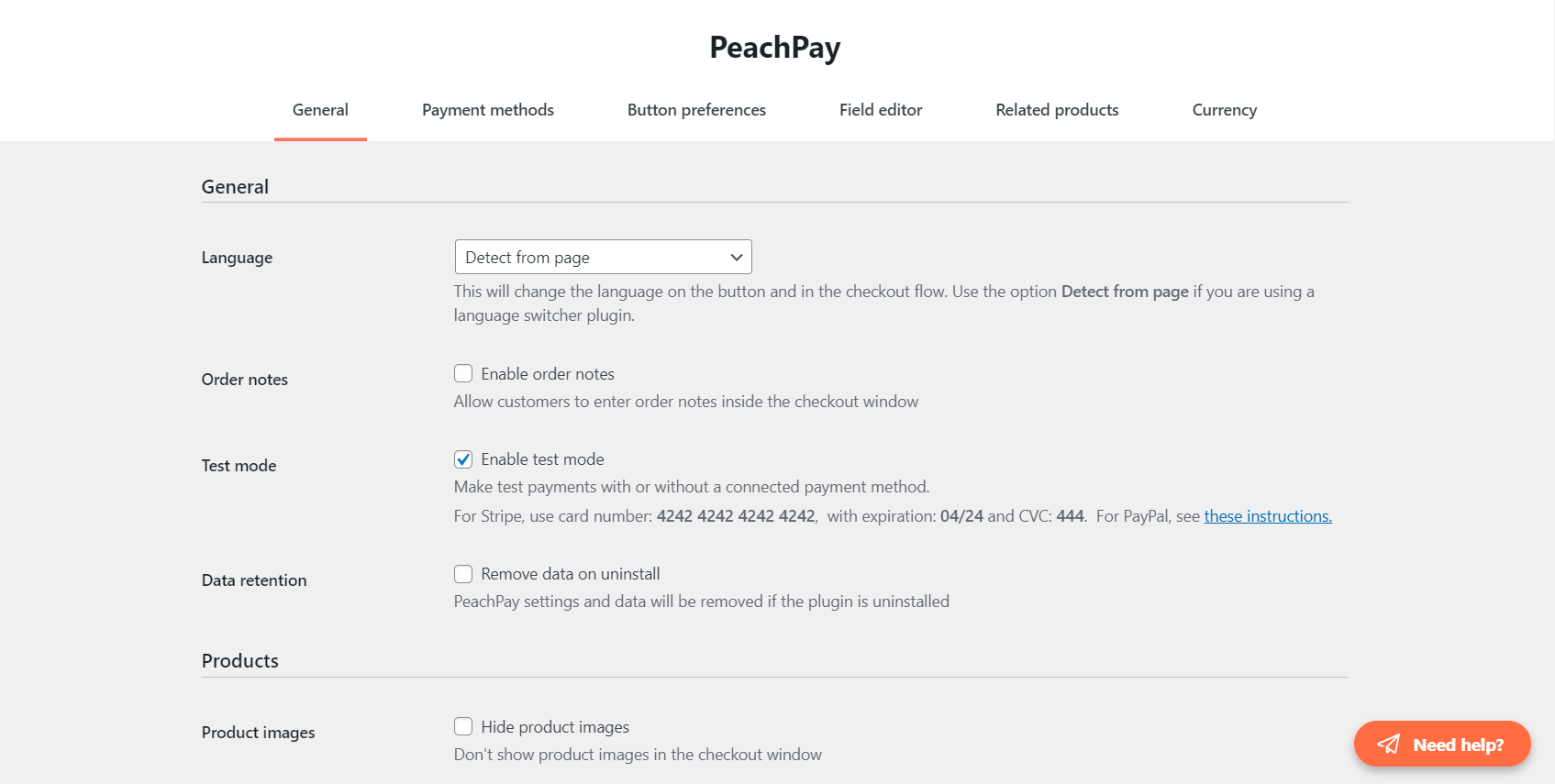 Finally, don't forget to embed your PeachPay checkout buttons in your store pages. To do so, paste in this WordPress shortcode:
[peachpay product_id=123]
Replace "123" with the product ID of the WooCommerce product that should appear when customers click the PeachPay checkout button. If you aren't sure what your product IDs are, go to "All Products" from the Products page in the WordPress sidebar and mouseover your products. Your products' product IDs will appear.
Once you're done with your PeachPay checkout button embeds, save your changes, visit your store's front-end and try clicking on your PeachPay checkout button. If you've set up PeachPay correctly, a neat checkout window should pop up for you to fill out your details and directly checkout. This is what first-time customers of your store will see.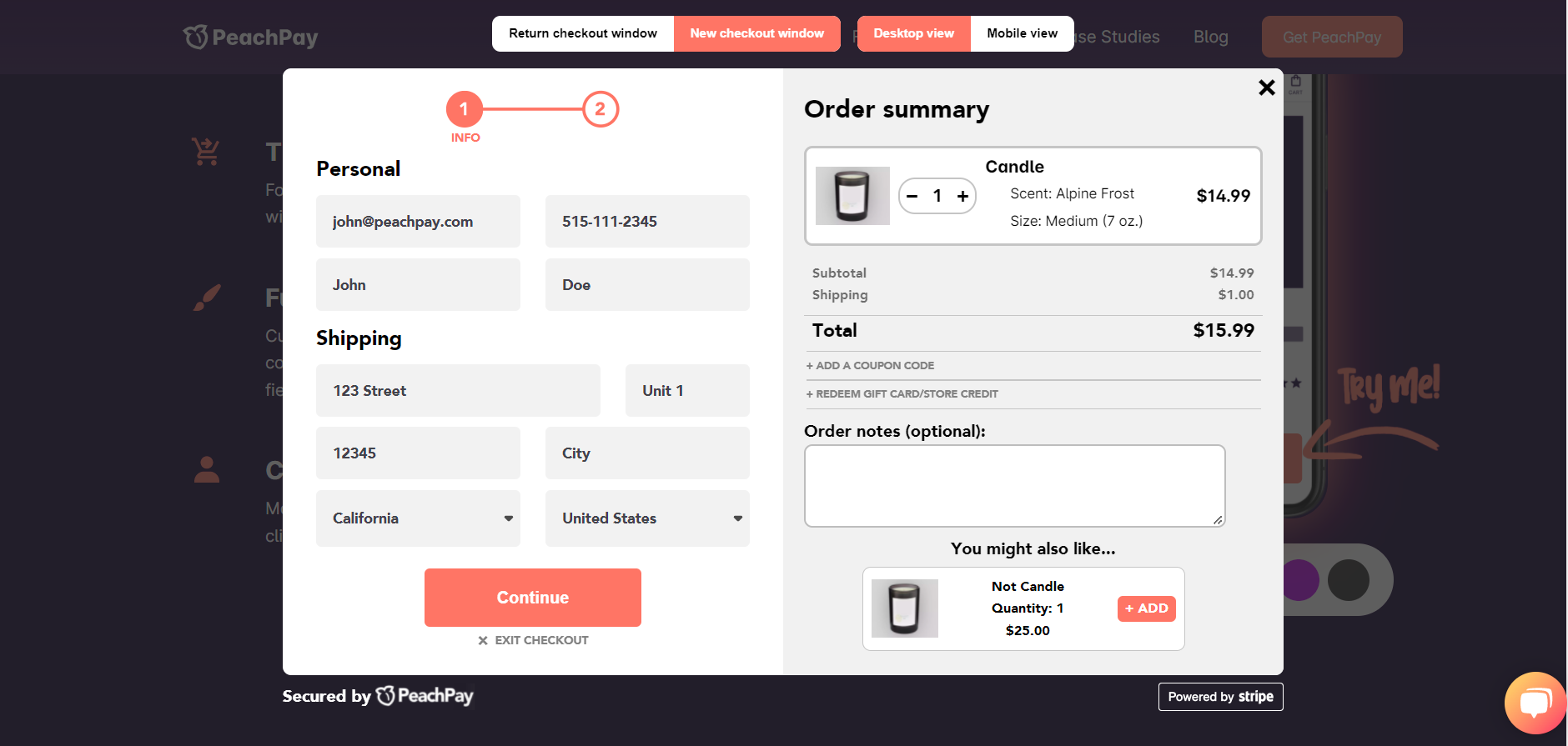 On the other hand, repeat customers will be directed to one-click checkout, where the checkout window will have already pre-filled their shipping and payment details. All they have to do is to hit the "Pay" button to complete checkout.
Get PeachPay to start using the best WooCommerce cart plugin for your WooCommerce store
If you're running your store on the WooCommerce ecommerce platform, then you'll already have the default WooCommerce checkout setup installed for your WordPress site. But with its unwieldy and multi-step checkout process, this setup isn't always the best option for curbing cart abandonment or improving AOV.
Third-party cart and checkout plugins thus aim to elevate the checkout experience by providing streamlined checkout forms, one-click checkout for returning customers, and product recommendations, among other features. And of the various solutions available, PeachPay undoubtedly leads the pack by:
Offering a clean and simple checkout interface specially designed for ease of use and high conversions,

Supporting a wide range of payment methods, such as Stripe, PayPal, and Google Pay (and with more payment methods to come!), so that you'll never lose a sale just because a customer has no way of making payment, and

Allowing repeat customers to pay instantly with one-click checkout, without the hassle of pulling out their credit card to submit their payment details.
These are just some of the great features you can expect to upgrade your WooCommerce store with when you use PeachPay. PeachPay is also completely free to use, so what are you waiting for? Get started with PeachPay here to unlock the ultimate checkout experience for your store now.